James P. DeAngelo, Esq.
Interim Executive Director   
jdeangelo@palegalaid.net
Jim is currently serving as Interim Executive Director of PLAN, Inc. He is a past board president of PLAN and has served as board president for the Community Justice Project and MidPenn Legal Services. Jim earned his J.D. from the Dickinson School of Law in 1991, and he earned his B.A. from Temple University. For more about Jim, read his full biography.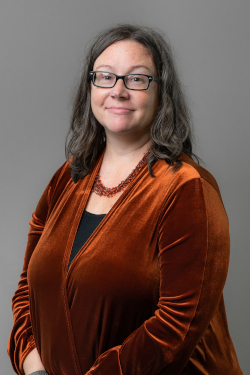 Kelly Bock Yeckley
Director of Statewide Legal Training and Content Development    
kbockyeckley@palegalaid.net
Kelly began serving as PLAN, Inc.'s first Training Coordinator in 2015; in December 2022 she was promoted to Director of Statewide Legal Training and Content Development. She enjoys putting together legal trainings that will help advocates help low-income clients. Outside of work, Kelly likes spending time with her husband, two sons, her parents, and friends.  She is also an avid beginning knitter and an animal lover and rescuer. She also enjoys hiking and camping with her guys and doing yardwork.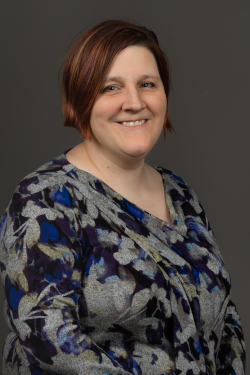 Natalie Bogerman
Administrative Secretary   
nbogerman@palegalaid.net
Natalie joined the PLAN, Inc. team in January 2017 — her first venture into the non-profit world. As Administrative Secretary, she incorporates skills from prior roles as the go-to person and organizational guru into her position at PLAN. She relishes any opportunity to be creative both at work and at home, from using software to explore graphic designing, to managing her many (too many?) hobbies: cross stitch, quilting, watercolor, collage, knitting, puzzles, and more. Natalie loves all things rainbow, as well as taking pictures of anything that catches her eye. She and her husband have two cats, enjoy racing vintage go-karts, and spending time with family and friends. 
Brianna Bosak
Communications Officer
bbosak@palegalaid.net
Brianna joined PLAN, Inc. in September 2020. She got her start in legal aid as a Grants Manager and holds a Bachelor of Arts in Journalism and grant writing certification from Temple University. Brianna is a proud mom to a sassy Siamese named Mina and enjoys art, poetry, and stand-up comedy. Brianna has long dreamed of combining her passion for travel with her love of games and puzzles, in the form of a trip to LA, where she can "Come on down!" to The Price is Right. 
Kianna Bowles
Training Coordinator
kbowles@palegalaid.net
In August 2023, Kianna became an integral part of the PLAN, Inc. team, stepping into the role of Training Coordinator—an instrumental position that supports our training programs and initiatives. Kianna is passionate about advocacy and has a robust background in public service, previously serving as the Coordinator Entry Specialist for the YWCA. Outside of work, Kianna enjoys spending time with family and friends. 
 
Tevis D. Bryant, Ed.D
Director of Diversity, Equity, Inclusion, and Belonging 
tbryant@palegalaid.net  
Dr. Tevis Bryant joins PLAN Inc. after a career primarily in the field of higher education. During his time in education Dr. Bryant has held various positions as a faculty member, direct support professional, and in senior leadership roles. Most recently, Dr. Bryant served as the Campus-wide Director of Inclusive Programming & Student Engagement/Diversity Faculty Fellow at Harrisburg Area Community College, where he developed a "diversity compass" tool that helped marginalized members of the central Pennsylvania region access culturally specific resources (i.e., haircare, food, financial support, etc.). This tool was impactful in both the recruitment and retention of students and employees from underrepresented populations. Dr. Bryant received his Ed.D in Educational Leadership from Rowan University in Glassboro, NJ, where he founded the college's first ever multicultural fraternity (Psi Sigma Phi). 
Elizabeth Griffith, J.D. 
Grants Manager 
egriffith@palegalaid.net
Elizabeth was hired as PLAN, Inc.'s Grants Manager in 2023, after previously working in grant administration and fundraising roles at Legal Aid of Southeastern Pennsylvania and the Public Interest Law Center in Philadelphia. Elizabeth received her J.D. from Albany Law School in 2013, where she was a member of the Albany Law Review. Outside of work, her time is spent with her husband and two young children and, when she can manage it, reading books. 
Erik B. Hansen, Esq.
Legal Director of Grants and Compliance   
ehansen@palegalaid.net  
Erik joined PLAN, Inc. in March of 2023 as its Legal Director of Grants and Compliance. Before joining PLAN, Inc., Erik served as the Deputy Director for Operations for Legal Aid of Southeastern Pennsylvania where he oversaw grants, compliance, and technology. Erik earned a Bachelor of Science in Business Administration from Shippensburg University and a J.D. from the Temple University Beasley School of Law. When not working, Erik is mostly outdoors with his wife, where they try to keep up with their two energetic boys. He enjoys biking, hiking, and travel. 
Henry Leone, Esq.
Director of Information and Digital Content 
hleone@palegalaid.net
Henry Leone, Esquire is the Training and Information Facilitator for Pennsylvania Legal Aid Network, Inc. He is also the Project Manager for the PALawHELP.org and PAProBono.net web site projects, and serves as the webmaster of PaLegalAid.net He received his B.S. in Business Management from Gannon University and his J.D. from the University of Pittsburgh School of Law. He previously served as the Director of Litigation and as a Staff Attorney for Northwestern Legal Services.
Susan J. Lucas 
Compliance Consultant 
slucas@palegalaid.net  
Prior to working as a Consultant to PLAN, Inc., Susan was employed for 15 years as a Program Administrator with a legal services program that was merged into MidPenn Legal Services. She started working with PLAN, Inc. in 1993, continuing to serve as a team leader for peer review visits to the LSPs. Her role as a Consultant to PLAN, Inc. expanded over the years to include compliance monitoring, technical assistance to PLAN, Inc. and the LSPs, oversight of special projects, and other compliance related responsibilities. Susan served twice as the statewide project manager for transitioning the programs and PLAN, Inc. to new case management systems. She has a Bachelor of Science in Accounting from Pennsylvania State University. Susan enjoys reading thriller novels, cruising, gardening, diamond painting, and of most importance, spending time with family and friends. 
Eric Marsteller 
Fiscal Consultant 
emarsteller@palegalaid.net  
Eric joined the PLAN fiscal team in January 2020 as an accountant. He also works as the Controller for the Community Justice Project, a specialty program in the PLAN network. Eric has an accounting degree from the University of Pittsburgh and a master's from Princeton Theological Seminary. Outside of work, Eric serves as a chaplain in the Pennsylvania Army National Guard and enjoys gardening, reading, and hiking. 
 
Mariel Quiñones Mundo, Esq.
Digital Content Manager 
mquinones@palegalaid.net
Mariel Quiñones Mundo is the digital content manager for PALawHelp and other online platforms. She has been with PLAN since January 2020, after starting her legal career working with access to justice nonprofits in Puerto Rico after Hurricane Maria's landfall. Mariel holds a Juris Doctor from the University of Puerto Rico and a Bachelor of Arts in Psychology. She is vegan for the animals and shares her life with several rescued pigs and dogs.
 
Shannon Shaffer 
Director of Finance 
sshaffer@palegalaid.net  
Shannon joined PLAN, Inc. in July 2023 as the Director of Finance. Shannon brings over twenty years of nonprofit experience, previously working as the Director of Finance for United Way of Pennsylvania as well as Wilkinsburg Community Development, Assistant Controller for Wilkinsburg Community College, and as an Accountant for Southwest Pennsylvania Human Services. Shannon started her career in profit working for Waste Management. She holds a Bachelor of Science in Business Administration from Shippensburg State University, where she majored in accounting and minored in history. When she is not working, Shannon enjoys reading and spending time with her two children, Jillian and Andrew, and her 15-pound cat, Atticus. Shannon is extremely proud of her daughter, who will be graduating from Stetson Law School in May 2024, and plans on continuing to work for legal aid in Florida. 
Anshu Shah, CFA, CPA, M.Fin. 
Accountant 
ashah@palegalaid.net  
Anshu joined the PLAN, Inc. team as an Accountant in June 2023 — her first venture into nonprofit accounting. Prior to this position, Anshu worked as an accountant in the private sector for ten years. Anshu earned her CPA (Certified Public Accountant) certification in 2014 and a MS (Finance) and CFA certification in 2008. She is a proud mom of two lovely boys, Siddh & Armaan, and cherishes spending her free time with them. Outside of her professional commitments, Anshu enjoys cooking, drawing, and shopping. 
Lacy Toline
Housing Grant Coordinator/Website Resource Assistant 
ltoline@palegalaid.net
Lacy joined PLAN, Inc in February 2020. She began her social services and nonprofit career in 2013 after receiving a Bachelor of Science in Human Development and Family Studies from Colorado State University as a "non-traditional" student. Lacy is obsessed with her dog, Clementina "Clemi" Mandarina. She also finds delight in traveling, gardening, biking, music, and getting into good trouble. 
 
Rena Weaver 
Bookkeeper 
rweaver@palegalaid.net  
Rena joined PLAN, Inc. in May of 2019 as a Bookkeeper with 25 years of accounting experience. Rena and her husband enjoy bicycle riding, gardening, and spending time with their family of two boys and several grandchildren.