Pennsylvania Legal Aid Network Conference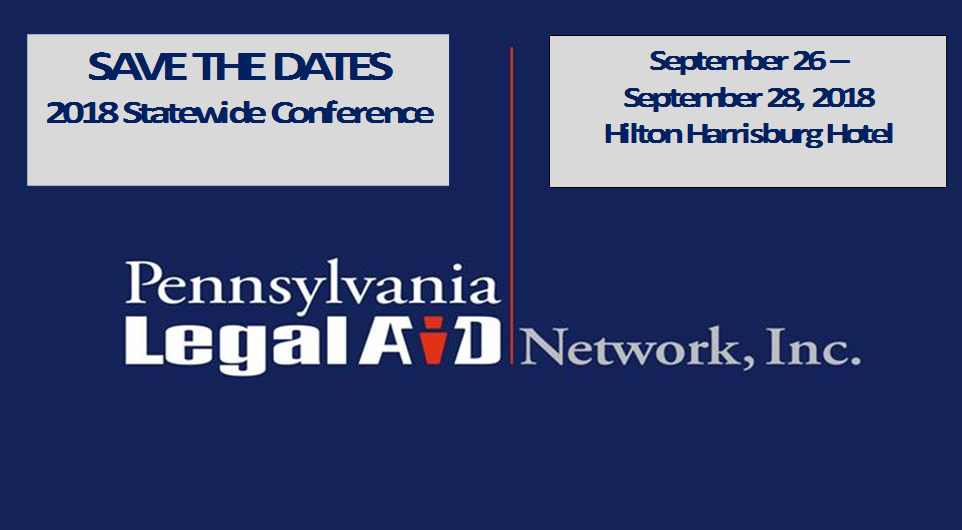 Pennsylvania Legal Aid Network, Inc. presents an annual conference each year. The conference offers an opportunity for legal aid staff and colleagues to gather and share information and experiences. The conference also offers a significant number of Pennsylvania Continuing Legal Education (CLE) credits allowing advocates to move toward satisfying their continuing legal education requirements while gaining knowledge in poverty law and networking with other poverty law advocates.
The 2017 Pennsylvania Legal Aid Network Conference was held on September 28-29, 2017 at the Hilton Harrisburg Hotel, One North Second Street, Harrisburg, PA 17101.
Advocates from across the state, from both within and outside the Pennsylvania Legal Aid Network, gathered in Harrisburg to reconnect and become better educated in the law affecting the low-income population of Pennsylvania. The conference featured 42 individual workshops on a variety of legal aid-related topics. 
Information on the 2017 Pennsylvania Legal Aid Conference is available at https://event.crowdcompass.com/planstc. 
Planning is currently underway for the 2018 Pennsylvania Legal Aid Conference, which will be held September 26, 27 & 28, 2018 in Harrisburg. For more information on the conference please contact Kelly Bock Yeckley at kbockyeckley@palegalaid.net.