Pennsylvania Legal Aid Network Conference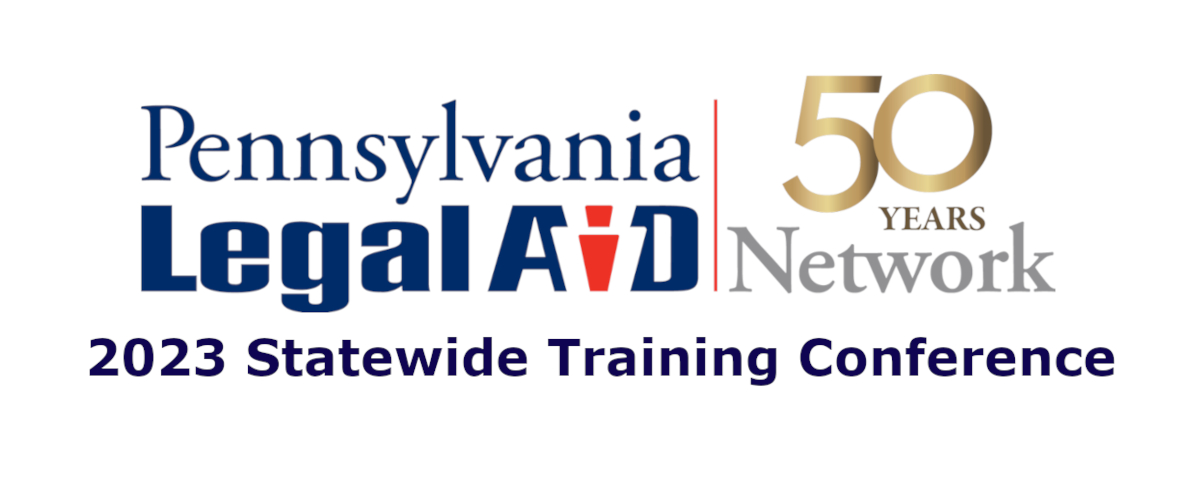 The 2023 Pennsylvania Legal Aid Network Conference will take place on September 14 and 15, 2023 at the Hilton Harrisburg. 
This year's conference will feature many helpful workshops for legal services staff, board members and other friends of the legal services community. In addition to the workshops listed in the Full Conference Agenda below, additional workshops focused on client issues will be added for client board members attending the conference as they are finalized. 
NOTE: The wearing of face covering/masks is optional and up to each individual person's preference in the conference space.
Full Conference Agenda            Conference App
 
Hybrid Sessions
We will be offering 8 sessions hybrid, meaning these particular sessions will be offered at the same time both in person and virtually. A separate Webinar Registration is required for each hybrid session you wish to attend. The list of hybrid workshops, with Webinar Registration links, appears at this page: 
2023 Pennsylvania Legal Aid Network Conference - Hybrid Workshops
 
CLE Credit
CLE credits are available for attorneys who attend qualifying sessions.  
This conference has been approved by the Pennsylvania Continuing Legal Education Board for 9.5 total available hours of Pennsylvania CLE Credit.
Total CLE Credits for each attendee and the specific breakdown between hours of substantive law, practice and procedure CLE credit and hours of ethics, professionalism or substance abuse CLE credit will depend on the workshops attended.
 
Pre-Conference Training Programs - Wednesday, September 13
PLAN, Inc. will be offering the following training sessions for PLAN Network Staff on September 13, 2023 :
Trial Advocacy Skills Training   
This session is limited to 24 participants. The full agenda is still being developed. Registration for this session is open. Information and registration for this program is available at https://bit.ly/PLANTrialSkills.  
 
Compliance Refresher Training 
This training is targeted towards staff with roles in assuring quality advocacy and grant compliance, such as Executive Directors and deputy directors, managing attorneys, grants managers, compliance administrators, intake supervisors, Legal Server administrators, etc. The full agenda is still be developed. While PLAN staff will be presenting on specific issues, we hope the forum will promote a discussion of compliance related issues, and participation of attendees will be encouraged. Information and registration for this session is available at https://bit.ly/PLANCompliance.  
 
Conference Registration
Registration is free for staff and board members of Pennsylvania's network of legal aid programs. 
Registration cost is $250.00 for staff of Non-PLAN public interest, government or other nonprofit organizations.
Registration cost is $475.00 for all other registrants. 
 
Hotel Accommodations
A Limited Block of rooms are available at the Hilton Harrisburg for the conference at a special discounted rate of $149.00 per night. Attendees requiring hotel accommodations need to reserve a room either online or by telephone:
ONLINE: To book your reservation online please click this link:  
Booking Link: https://bit.ly/BookAtHilton
TELEPHONE: To book a reservation by telephone please call 717-233-6000, hit Option 1 and use Group Code 53844. 
Reservations need to be booked in this manner if you are a staff member or board member of one of our legal aid programs and you need hotel reservations.
You will be responsible for paying for your charges before you leave the Hilton. Room, tax and self-parking will be included on your bill (parking will only be included if you are staying over).
Day attendees will be responsible for paying for your parking before you leave. Don't forget to get your parking validated before leaving for a discounted rate.