Pennsylvania Legal Aid Network Brochure
Pennsylvania Legal Aid Network, Inc.
Helping Those Who Have Nowhere Else To Turn
Standing For Liberty And Justice For All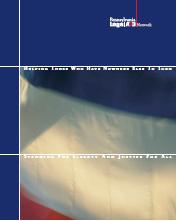 Pennsylvania Legal Aid Network, Inc. periodically produces an informational brochure explaining the interaction of PLAN, Inc. with the rest of the programs within the Pennsylvania Legal Aid Network that provide legal assistance to low-income individuals and families who have no where else to turn.
This brochure outlines the Mission, Vision and Values that guide PLAN, Inc. and the member programs of the Network in serving our clients.
It also explains how the Network accomplishes concrete Measurable Outcomes for the people and families that are served. These outcomes are accomplished through a combination of methods including:
Direct full representation of clients;

Telephone helplines;

Self-assistance strategies;

Community legal education; and

Web-based legal information and resources.
To fully appreciate the scope on services used and the measurable outcomes achieved, please download and view the entire brochure which is available in PDF format by clicking the link below.