Pennsylvania Legal Aid Network Excellence Awards
Nominations are Open for our Annual Excellence Awards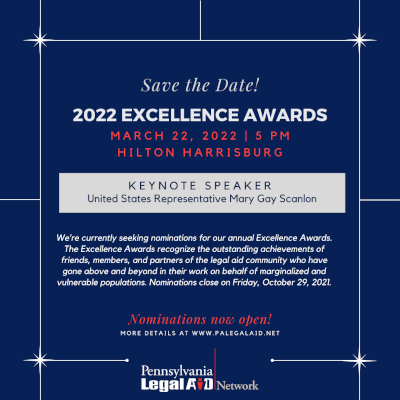 We're currently seeking nominations for our 2022 Excellence Awards. Each year, our Excellence Awards recognize the outstanding achievements of friends, members, and partners of the legal aid community who have gone above and beyond in their work on behalf of marginalized and vulnerable populations.
Nominations are open to everyone, and there is no limit on the number of nominations you may submit. Recipients are chosen based on their commitment, dedication, and effort to improving the availability and quality of civil legal services in Pennsylvania. Letters of recommendation, relevant news articles, and other documents that support the nomination are taken into account when selecting award recipients.
We're accepting nominations for the following categories:
1.     LEGAL SERVICES STAFF
This category recognizes legal aid attorneys, paralegals, and support staff of civil legal aid programs.
2.     PRIVATE BAR
This category recognizes members of the private bar.
3.     COMMUNITY SERVICES
This category recognizes the work of government officials, volunteers, and other members of the community.
4.    LAY & CLIENT ADVOCACY
This category recognizes client leaders, organizational partners, and other individuals and groups that demonstrate a commitment to serving the legal needs of low-income Pennsylvanians.
While previous award recipients are eligible for an award, past award status will be considered. You may refer to our list of former Excellence Award winners if you are unsure about whether someone has received an award in the past.
Nominations should be submitted using our online form. Paper nomination forms are also acceptable and can be sent by mail or fax to:
PLAN Awards Committee
The Louise Brookins Building
118 Locust Street
Harrisburg, PA 17101
Fax: (717) 233-4088
Nominations close on Friday, October 29, 2021.  
Please join us for our Excellence Awards Dinner on Tuesday, March 22, 2022 at the Hilton Harrisburg.
We are pleased to welcome Representative Mary Gay Scanlon (PA-5), co-chair of the Congressional Access to Civil Legal Aid Caucus, as our Keynote Speaker.
The evening will begin with a social hour from 5-6pm. After the reception, guests are invited to join us for a banquet dinner where we will present the recipients with their awards and a commemorative video highlighting their accomplishments.
Check out our sponsorship and advertising opportunities for ways to support civil legal aid and the extraordinary accomplishments of our 2022 Excellence Award Winners.
For inquiries about the Excellence Awards, please contact Brianna Bosak at bbosak@palegalaid.net or call (717) 710-3840.
 
Excellence Award Nomination Form (MS Word) (PDF)
---

Pennsylvania Legal Aid Network Honors 2021 Excellence Award Recipients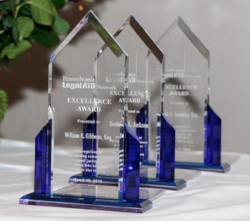 Pennsylvania Legal Aid Network, Inc. recognized the recipients of the 2021 Pennsylvania Legal Aid Network Excellence Awards during a virtual Awards Celebration that was held on March 23, 2021.
The 2021 Award recipients were originally scheduled to receive the award in 2020 but the 2020 Excellence Award Celebration could not take place due the to COVID-19 pandemic. Rather than electing to select a new slate of award winners for 2021, PLAN decided to use the 2021 celebration to honor those selected to receive the award in 2020 and to celebrate the legal aid community's collective response to COVID-19. 
The featured speaker at the event was Supreme Court Justice David Wecht.
The mission of the Pennsylvania Legal Aid Network is to ensure equal access to justice so that Pennsylvanians can have legal representation when facing important civil legal concerns affecting their safety, health, shelter and survival. 
The PLAN Excellence Awards recognize legal aid attorneys, paralegals, support staff and friends of civil legal aid who support the clients served by the civil legal programs that comprise the Pennsylvania Legal Aid Network.
Nominations are solicited from across Pennsylvania for the awards which are made based on a variety of criteria that demonstrated excellence and diligence in helping improve the availability and quality of civil legal services for low income people and victims of domestic violence in Pennsylvania. 
The 2021 Excellence Award recipients honored at the event include:
Wesley C. Allen, Esq. 
Senior Attorney, Family Advocacy Unit • Community Legal Services • Philadelphia, PA
Mardi Busanus 
Volunteer • Legal Aid of Southeastern Pennsylvania • Doylestown, PA
El Comité de Apoyo a los Trabajadores Agrícolas (CATA) 
El Comité de Apoyo a los Trabajadores Agrícolas (The Farmworkers Support Committee) • Kennett Square, PA
Robert Damewood, Esq. 
Staff Attorney • Regional Housing Legal Services • Pittsburgh, PA
Samuel R. Grego, Esq. 
Principal • Dickie McCamey, & Chilcote, P.C. • Pittsburgh, PA
Erin Guay 
Paralegal • Pennsylvania Health Law Project • Pittsburgh, PA
Gabriele Miller-Wagner 
Administrative Assistant, Pro Bono Department • Pennsylvania Bar Association • Harrisburg, PA
Matthew S. Rich, Esq. 
Staff Attorney • MidPenn Legal Services • Harrisburg, PA
Joan M. Tutak, Esq.  
Senior Attorney • Neighborhood Legal Services • Butler, PA
A video tribute was shown during the event highlighting the accomplishments of each of the 2021 recipients of the award. Those video tributes may be viewed below:
 

In addition, PLAN presented the Outstanding Leadership in Legal Services Award to Samuel W. Milkes, Esq., Former Executive Director, Pennsylvania Legal Aid Network, Inc. During his 19 years as Executive Director, Samuel Milkes worked tirelessly to expand access to civil legal services for low-income households and dedicated himself to advancing the mission of a compassionate and coordinated, client-centered legal aid system in Pennsylvania. 
 

In recognition of his long service and his superlative efforts as Executive Director, the Outstanding Leadership in Legal Services Award was rechristened the Samuel W. Milkes Outstanding Leadership in Legal Services Award at the conclusion of the ceremony and will be known as that award in the future. 
 
Download Program Booklet
About the 2021 Excellence Award Recipients
 
---

   Award Tribute Videos