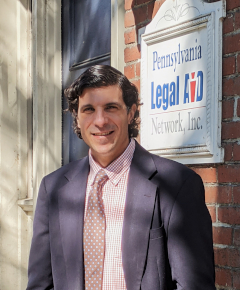 Patrick M. Cicero, Esquire, joined the Pennsylvania Legal Aid Network (PLAN) as its Executive Director on January 15, 2020. Prior to joining PLAN as the organization's seventh Executive Director, Patrick served as the Executive Director of the Pennsylvania Utility Law Project, a statewide legal aid program that is part of the PLAN network of civil legal aid programs. Before that, he has clerked for the Honorable Sylvia Rambo of the Federal District Court for the Middle District Court of Pennsylvania and he was a staff attorney with MidPenn Legal Services, the 18-county civil legal aid organizations serving residents of the central Pennsylvania. A full resume for Patrick M. Cicero is available below.
Patrick replaced PLAN's longest-tenured Executive Director, Sam Milkes, who held that position from 2001 until his retirement from PLAN on March 31, 2020.
The first Executive Director of PLAN, Inc. (then Pennsylvania Legal Services Center) was Gerald Kauffman, Esq.  Mr. Kauffman was a former legislator and he believed in a very client-oriented, assertive legal aid system.
Mr. Kauffman was replaced by Howard Thorkelson, Esq. who held the position for about 10 years. Mr. Thorkelson was replaced by Otto Hoffman, Esq. (Director for 4.5 years) and then by Orient Johnson, Esq. (Director for 2.5 years).
Following Mr. Johnson, Marcus Williams, Esq. held the position for four years, while the program was renamed Pennsylvania Legal Services and he was followed by Sam Milkes.
During periods of transition to new Directors, others have been Acting Executive Directors. Phyllis Guillaume, the Controller at PLAN, Inc. (and its predecessor corporate entities) for many years, was Acting Executive Director on at least two occasions. Al Azen served as Acting Executive Director before Otto Hoffman was hired in April, 1988. Eve Biskind-Klothen, Esq. was also Acting Executive Director between Williams and Milkes. She stepped down from the PLAN Board of Directors to assume this role.
PLAN, Inc. is the creation of a merger of the Pennsylvania Legal Services Center and the Law Coordination Center (LCC). At that time, it was named Pennsylvania Legal Services and in 2006, it was renamed PLAN, Inc. For more background on the history of PLAN, Inc., see the history page of our website. 
There were two Executive Directors of the LCC before its merger with PLSC. The founding Director was Randy Chapman and the Directors who led the program into the merger were Larry Lavin and Carolyn Worrell, who was the Acting Executive Director of LCC when Lavin left.