Current members of the PLAN Board of Directors
 
The corporate bylaws of Pennsylvania Legal Aid Network, Inc. mandate the composition and selection of individuals who serve as the Pennsylvania Legal Aid Network, Inc. Board of Directors. There are a total of thirteen (13) directors authorized, to be appointed in the following manner:
Attorney Appointments. Five attorney directors appointed by the Pennsylvania Bar Association;

Client or Community Representative Appointments. Four client or community representative directors, two appointed by the Clients' Council of Pennsylvania and two appointed by the Pennsylvania State Welfare Rights Organization.  At least one of the two directors from each of these appointing agencies must be a person who, at the time of appointment is eligible to be a client of legal services as defined by the Legal Services Corporation;

Pennsylvania Project Directors' Corporation Appointment. One director appointed by the Pennsylvania Project Directors Corporation, representing the member programs of the Pennsylvania Legal Aid Network; and

PLAN, Inc. Board of Director Appointments. Three directors appointed by the PLAN, Inc. Board of Directors, selected to  represent other interests which will be beneficial to the purposes of PLAN, Inc. and the Pennsylvania Legal Aid Network.  
Each appointing agency shall take into account the need for diversity in the composition of the Board of Directors, including racial, gender, geographical and institutional diversity.
Members usually are eligible to serve a maximum of two four-year terms, however, a  member appointed to complete the unexpired term of another member may serve two full four-year terms following the completion of the unexpired term. Members who are officers of the corporation at the time their term expires may remain on the Board until the next election of officers.
---
The current members of the PLAN, inc. Board of Directors are: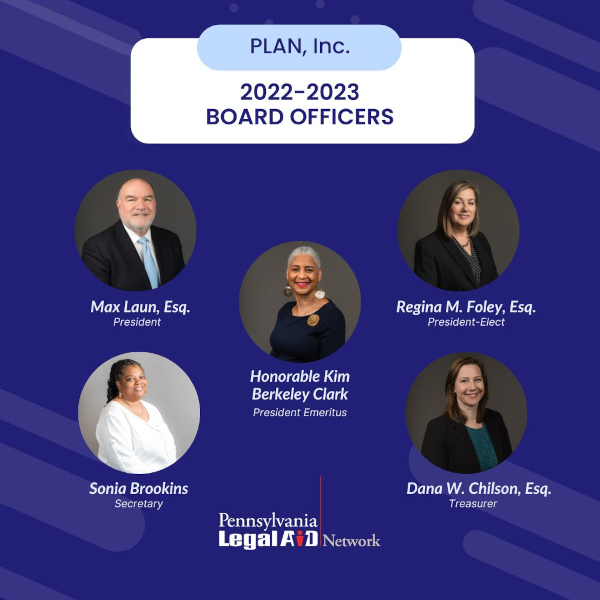 President: Max W. Laun, Esq.
President-Elect: Regina M. Foley, Esq.
Secretary: Sonia Brookins
Treasurer: Dana W. Chilson, Esq.
President Emeritus: Honorable Kim Berkeley Clark
Pennsylvania Bar Association
Appointments

Dana W. Chilson, Esq.

McNees Wallace & Nurick LLC
100 Pine Street
P. O. Box 1166
Harrisburg, PA 17108-1166
Term: 3/2020 - 3/2024

 

The Honorable
Kim Berkeley Clark

Court of Common Pleas
of Allegheny County
5059 Family Law Center
440 Ross Street
Pittsburgh, PA 15219
Term: 9/2022-3/2024

The Honorable
Bryan Cutler

PA House of Representatives
121 Main Capitol Building
P.O. Box 202100
Harrisburg, PA 17120
Term: 3/2020 - 3/2024

Regina M. Foley, Esq.

Raynes & Lawn
1845 Walnut Street, 20th Fl.
Philadelphia, PA 19103
Term: 3/2023-3/2027
 

Jamie R. Schumacher, Esq.

MacDonald Illig
100 State Street, Suite 700
Erie, PA  16507
Term: 6/2022 - 3/2026 

 
Client Council of Pennsylvania
Appointments 

Carla Payne-Harrison

West Mifflin, PA 15122
Term: 6/2022 - 3/2026

Rochelle Jackson 

McKeesport, PA 15132
Term: 3/2020 - 3/2024

 

Pennsylvania Welfare Rights Organization
Appointments

Sonia Brookins

PA Welfare Rights Organization
1231 North Franklin Street
Philadelphia, PA 19122
Term: 3/2020 - 3/2024

Marsha White-Mathis 

PA Welfare Rights Organization
1231 North Franklin Street
Philadelphia, PA  19122
Term: 6/2022-3/2026

 
Pennsylvania Project Directors
Appointment 

 

Rhodia Thomas, Esq.

213-A N. Front St.
Harrisburg, PA 17101-2240
Term: 5/2023-3/2027

 
Pennsylvania Legal Aid Network Board
Appointments

The Honorable
Ronald D. Castille

Chief Justice Emeritus
Philadelphia, PA 19111
Term: 6/2022-3/2026

Allen Harberg, Esq.

North Wales, PA  19454-2505
Term: 3/2023-3/2027
 

Max W. Laun, Esq.

Pittsburgh, PA 
Term: 9/2022-3/2026