PLAN Inc. Launches Recruitment for 2023 Martin Luther King, Jr. Internship Program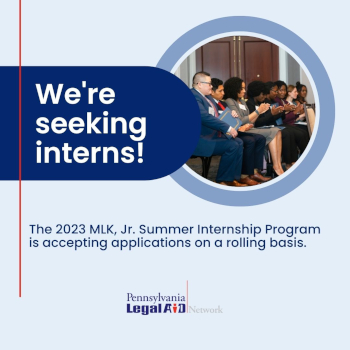 Applications for the 2023 MLK, Jr. Summer Internship Program are now being accepted on a rolling basis.
The program is available for first- or second-year law students who are social justice oriented and desire an opportunity to make a difference. Qualified applicants will be awarded placements with legal aid organizations throughout our Network and paid a program stipend of $7,500. 
The internship begins with a two-day poverty law orientation training in May. During the ten-week program, interns engage with clients directly, participating in court and administrative hearings (for those certified) and conducting legal research and writing on cases under the supervision of experienced public interest attorneys. As a valued member of staff, interns are encouraged to participate in case strategy and contribute to ongoing case management.
The program also provides interns with an opportunity to gain valuable work experience and learn about the special challenges faced by low-income and marginalized communities. In turn, interns provide valuable legal services to the clients in the offices where they are placed.
The Pennsylvania Legal Services Black Caucus established the Martin Luther King, Jr. Summer Internship Program in 1991. The program is an integral part of our commitment to fostering diversity, equity, inclusion, and belonging within our organization and Network and to ensuring that all people are afforded the equity of being able to access justice regardless of their ability to pay. Over the last thirty years, our program has successfully grown with the care of several stewards to support more than 400 law students.
Ten placements are available this year. If you would like to join the class of 2023, please submit a cover letter, resume, transcript, and three professional references to Arlene Marshall-Hockensmith, Esq., PLAN, Inc. Director of Diversity, Equity, Inclusion, and Belonging, at amarshall-hockensmith@palegalaid.net.
To read more about our Martin Luther King, Jr. Internship & Fellowship Program, visit our webpage or read our program brochure.