Arlene Marshall-Hockensmith Esq. to be Director, Diversity, Equity, Inclusion, and Belonging for Pennsylvania Legal Aid Network, Inc.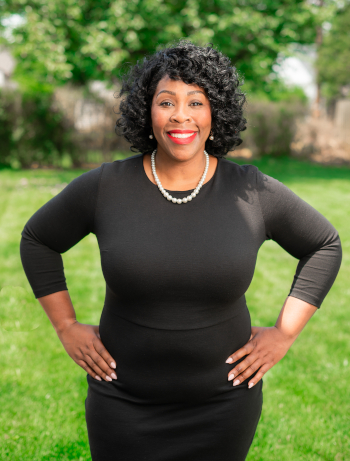 Pennsylvania Legal Aid Network, Inc. (PLAN) announces that Arlene Marshall-Hockensmith will become PLAN's first Director, Diversity, Equity, Inclusion, and Belonging (DEIB) beginning June 1, 2022. Arlene is the first woman of color to hold a senior leadership role in PLAN, Inc.
Arlene joined PLAN, Inc. in 2014, and currently serves as its Administrative Officer, where her role includes compliance monitoring of and reporting on PLAN network programs, reviewing grant documentation, conducting community diversity trainings and annual advocacy skills trainings for new PLAN program attorneys and paralegals, supervising the Martin Luther King, Jr. (MLK) Internship and Fellowship Programs, and supporting PLAN's new Affinity Groups.
Before joining PLAN, Inc., Arlene spent four years as an attorney and project manager at the Pennsylvania Coalition Against Domestic Violence (PCADV) and four years prior to that as a staff attorney at MidPenn Legal Services. During law school, she interned at the Pennsylvania Bar Association (PBA) Pro Bono Office and at MidPenn Legal Services as a MLK Intern. She received her J.D. from Widener Commonwealth Law School and a B.A. from Penn State University.
Arlene has served as co-Chair of the PBA's Legal Services to the Public Committee and as co-Vice Chair of the Minority Bar Committee (MBC); she currently holds a position as Editor-in-Chief of the MBC's Houston's Legacy Newsletter. She is a past member of the Dauphin County Bar Association's Board of Directors, and currently serves on the Board of Directors for the Carlisle Theatre and Central Pennsylvania's MLK Day of Service. Arlene has presented at numerous local, state, and national conferences and continuing legal education programs.
In her new role, Arlene will continue to oversee the MLK interns and fellows and support the Affinity Groups, while concentrating on supporting PLAN, Inc. and the PLAN network programs in developing a vision and strategy around incorporating DEIB in all parts of the network's culture and operations – including hiring, retention, supervision, data collection and analysis, advocacy, and communication.
An important part of her role will be to assist PLAN, Inc. and its network's legal aid programs in assessing their current DEIB status and implementing inclusive processes that aim to increase and sustain diversity among staff of all levels.
Judge Kim Berkeley Clark, President of PLAN, Inc.'s Board, said, "The appointment of Arlene Marshall-Hockensmith as PLAN, Inc's first Director, DEIB, shows the network's commitment to infusing these important principles across the work that all of us do." Max Laun, Interim Executive Director of PLAN, Inc., added, "Arlene's experience, drive, and commitment to DEIB make her a perfect choice to fill this role, working both within PLAN, Inc. and across our statewide network."
Marshall-Hockensmith stated, "I am honored to have been selected by PLAN to oversee its DEIB work. I look forward to helping PLAN, Inc.
and our network programs create a more cohesive DEIB program that recognizes the value of diversity, equity, inclusivity, and overall employee well-being."
Please join us in congratulating Arlene on her new role and offering her all assistance possible to make DEIB a success within PLAN, Inc. and its network.