PUC Reminds Consumers to Stay Connected During Digital Connectivity and Lifeline Awareness Week, Encourages Congress to Continue Funding
Programs Available to Help Income-Eligible Consumers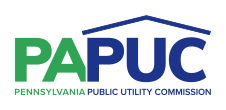 In coordination with a national effort to keep consumers connected, the Pennsylvania Public Utility Commission (PUC) recognizes Sept. 11-15 as Digital Connectivity and Lifeline Awareness Week, to help income-eligible Pennsylvanians stay connected through the Lifeline Program.
"Digital Connectivity and Lifeline Awareness Week is important to ensure that Pennsylvanians have access to both basic local telephone service and high-speed internet services.  The Lifeline program provides access to basic local telephone services for those who want such access while digital connectivity programs provide access to all that the internet has to offer," said Chairman Stephen M. DeFrank.  "This week is an appropriate time to remind consumers that the Lifeline and Affordable Connectivity Programs are available to help ensure income-eligible consumers continue to have access to affordable communications needed for telemedicine, telework, online learning and more."
All five PUC Commissioners recently reached out to members of the Pennsylvania Delegation of Congress to encourage the continuation of funding for the Affordable Connectivity Program (ACP), which could exhaust by the end of 2024.
"Recent experience shows that the ACP is an important component of universal service for voice and internet service in Pennsylvania and nationwide," Commissioners expressed in the letter. Voice and internet networks and services are essential infrastructure of the 21st century.  Simply put, internet access at home, office, and business locations is now almost universally recognized as a necessity."  
Lifeline Program Benefits
$5.25 Per Household, Per Month Discount to Phase Out by Dec. 1, 2024
Lifeline is a federal program that provides a $5.25 per household, per month discount on your qualifying landline or wireless standalone voice service or a $9.25 per household, per month discount on your qualifying wireless or landline internet service or qualifying bundled telephone/internet service product from a landline or wireless provider. The discount appears in the form of a reduction to the bill you pay your service provider.
The $5.25 Lifeline support for standalone Lifeline voice service will be eliminated in certain geographic areas beginning Dec. 1, 2024.
The benefit can be used for voice (telephone), Broadband Internet Access Service (or BIAS, usually called internet service), or a combined telephone/internet service product from a landline or wireless provider.
A consumer qualifies for Lifeline if they are at or below 135% of the federal poverty guidelines or participate in specific federal programs, including: Medicaid, Supplemental Security Income (SSI), Veterans' Pension and Survivor Benefit, Federal Public Housing Assistance (FPHA), and Supplemental Nutrition Assistance Program (SNAP). More information on program eligibility, how to apply and recertify is available on the Commission's website.
Affordable Connectivity Program Benefits
A separate benefit, the Affordable Connectivity Program (ACP) provides eligible households with discounts of up to $30 a month for broadband service. Eligible households can also get a one-time discount of up to $100 on equipment to use the internet. Equipment includes a computer or tablet if they contribute $10-$50 toward the price for the equipment. The benefit is limited to one service discount per month and one device discount per household. This ACP is in addition to, not in place of, the current Lifeline Program that provides $9.25 a month to support affordable broadband service.
You can receive both the Lifeline and ACP benefits at the same time. They can be applied to the same qualifying service or separately to a Lifeline service and an ACP service with the same or different providers.??For example, an eligible household could have a Lifeline-supported mobile phone service and a separate home broadband service that is supported through the ACP.? Only one Lifeline benefit and one ACP benefit is permitted per household. Federal rules prohibit households from receiving more than one Lifeline or ACP service.