Patrick M. Cicero, Esq. Begins Tenure as Executive Director of Pennsylvania Legal Aid Network, Inc.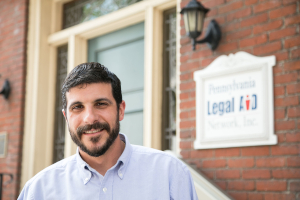 Attorney Patrick M. Cicero joined the Pennsylvania Legal Aid Network (PLAN) today as its new Executive Director as part of the organization's planned leadership transition. Cicero will succeed the current Executive Director, Sam Milkes, who has held that positon since 2001 and will step down on March 31, 2020.
Jay Alberstadt, Esq., the President of the Board of Directors of Pennsylvania Legal Aid Network, Inc., led a comprehensive search for PLAN's new executive director. Alberstadt commented, "A hiring committee of the Board of PLAN engaged in a very thorough nationwide search to fill this position and included Board, clients, PLAN programs, and PLAN staff in the interview and search process. We are very pleased with the results of this search and look forward to Patrick's leadership for years to come."
Prior to joining PLAN as the organization's seventh Executive Director, Patrick Cicero served as the Executive Director of the Pennsylvania Utility Law Project, a statewide legal aid program that is part of the PLAN network of civil legal aid programs. Before that, he has clerked for the Honorable Sylvia Rambo of the Federal District Court for the Middle District Court of Pennsylvania and he was a staff attorney with MidPenn Legal Services, the 18-county civil legal aid organizations serving residents of the central Pennsylvania. Upon his appointment to PLAN, Cicero stated, "I am honored to have been selected by the PLAN Board to be PLAN's next Executive Director. I believe that Pennsylvania has some of the strongest legal aid programs in the country. We have reliable funders, excellent project directors and staff, strong public support, and robust client participation."
The Pennsylvania Legal Aid Network is the statewide consortium of independent legal aid programs that provides civil legal aid to low-income individuals and families. The PLAN network is comprised of nine regional legal aid programs, providing legal assistance to eligible clients in every county in Pennsylvania, and six specialized legal aid programs, providing legal services in specialized areas of the law or to special groups of eligible clients. Last year PLAN civil legal aid programs helped 73,699 individuals and their families with critical legal problems that affected their shelter, income, health, and personal safety.