Members of Congress and Distinguished Jurists and Business Leaders Join LSC for Access to Justice Forum, 45th Anniversary Luncheon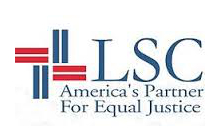 Members of Congress, business leaders, distinguished jurists, and members of the legal aid community will gather at Georgetown University Law Center on Tuesday, April 9, for the Forum on Increasing Access to Justice. The Legal Services Corporation (LSC) is hosting the event in conjunction with its Board of Directors' quarterly meeting.
Rep. Susan W. Brooks (IN-5) and Rep. Joseph P. Kennedy III (MA-4), co-founders of the bipartisan Congressional Access to Legal Services Caucus, will deliver remarks. They will be joined by ABA President Robert Carlson, LSC Board Chair John G. Levi, and Georgetown Law Dean William M. Treanor. Senator Daniel S. Sullivan (AK) will also take part in a panel on legal aid's role in helping survivors of domestic violence.
Earlier in the day, attendees will gather for a luncheon celebrating LSC's 45th Anniversary. Judge David S. Tatel of the United States Court of Appeals for the District of Columbia Circuit and LSC Board Chair John G. Levi will deliver opening remarks. Texas Chief Justice Nathan L. Hecht and Indiana Chief Justice Loretta H. Rush will share updates on the work of LSC's task forces on natural disasters and the opioid crisis.
Finally, LSC Leaders Council Co-Chair Kenneth C. Frazier, Chairman and Chief Executive Officer of Merck & Co., Inc.; David M. Rubenstein, Co-Founder and Co-Executive Chairman of The Carlyle Group; and Amazon Inc. General Counsel David Zapolsky will join LSC President Jim Sandman for a discussion on the importance of legal aid to American business.
The forum will include three panels and brief technology presentations. The first panel, Partnerships to Address the Needs of Low-Income Individuals in Housing Court, will examine the impact on individuals and on the judiciary when tenants face eviction without access to legal counsel. The panelists will share successful approaches to addressing the legal needs of low-income tenants and how law firms and legal services organizations can help. Former Chief Judge of New York Jonathan J. Lippman will moderate the discussion.
The second panel, Ensuring Access to Justice for Self-Represented Litigants, will explore ways that technology and the judiciary can best support individuals navigating the legal system without full representation from an attorney. The panelists include Vermont Chief Justice Paul L. Reiber and experts in the delivery of legal services.  
Following these panels, Rapid Fire Tech Talks will feature brief presentations on the ways that technology can expand access to justice for low-income Americans.
The final panel, Legal Aid Collaborations to Help Survivors of Domestic Violence, will highlight the vital role legal aid plays in responding to domestic violence. Senator Sullivan will be joined on the panel by legal services leaders and Chief Judge Anna Blackburne-Rigsby of the District of Columbia Court of Appeals.
The anniversary luncheon will take place at Washington Court Hotel, 525 New Jersey Avenue NW, from 11:30 a.m. – 1:30 p.m. EDT. The Forum on Increasing Access to Justice will be held afterwards at Georgetown University Law Center, 600 New Jersey Avenue NW, from 2-5:00 p.m. EDT. Members of the press are invited to attend both events.
The forum and luncheon will also be live-streamed via Facebook Live. To view the briefing, visit LSC's Facebook page. Or follow the conversation on Twitter with the hashtag #LSCForum.