LSC Releases Request for Letters of Intent for 2020 Technology Initiative Grants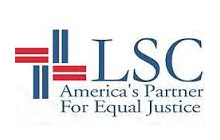 The Legal Services Corporation has released its Request for Letters of Intent (LOI) to apply for the 2020 Technology Initiative Grant (TIG) funding. The Request for Letters of Intent to Apply for 2020 TIG Funding provides guidance on the Technology Initiative Grant program's requirements and application process.
Only current LSC basic field grant recipients are eligible to apply for funding, but the TIG program encourages applicants to include justice community partners to broaden the reach and sustainability of projects.
Projects supported through the TIG program develop, test, and replicate innovative technologies that enable grant recipients and state justice communities to improve low-income persons' access to high-quality legal assistance.
In 2020 LSC is accepting LOIs in three application categories: 1) Innovations and Enhancements, 2) Replication and Adaptation, and 3) Technology Improvement Projects. The Technology Improvement Projects category allows organizations that have struggled with their technology infrastructure to apply for up to $25,000 in funding to conduct an IT technology assessment, a business process improvement initiative, or a technology planning project.
LSC will be hosting an informational webinar on the 2020 LOI process on Thursday, February 13, at 2:00 pm ET/11 am PT. Please click here to register for the 2020 TIG informational webinar. After registering, you will receive a confirmation email with a link to participate in the webinar. LSC will post a recording of the session and a copy of the presentation slides on the LSC website.
The deadline for submission of TIG LOIs is Monday, March 16, 2020. LSC will invite full proposals for those projects that have a reasonable chance of success in the grant competition process based on LSC's analysis of the information provided in the LOI. Get more information about the TIG program and LOI process on the LSC website.
If you have any questions, please email techgrants@lsc.gov.