Legal Services Corporation Telework Capacity Building Grant Opportunity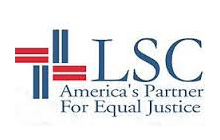 The Legal Services Corporation (LSC) has created an application and award process for grants to support building the telework capacity of LSC grantees during the COVID-19 pandemic. Grantees may request up to $25,000 for equipment, services, and related expenses to improve or expand their telework and remote access capabilities to better serve low-income populations during a time of recommended or required telework. LSC estimates the average grant will be between $10,000 and $15,000.
The grant term will be six months with a single initial payment. Reporting will consist of a brief final report and final budget to be submitted within 30 days of the end of the grant term.
The deadline for completing this short application is Thursday, April 2, 11:59 p.m. Eastern. LSC will review and make final grant decisions by April 10.
Support Materials
Before starting the application, please review these support materials:
Application Link
Click to start your 2020 LSC Telework Capacity Building Application