Legal Services Corporation Awards More than $4 Million in Technology Grants to Strengthen Legal Aid to Low-Income Americans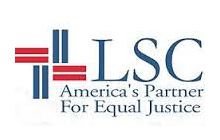 The Legal Services Corporation (LSC) announced today that it is awarding 35 Technology Initiative Grants (TIG) to 29 legal services organizations totaling $4,268,938. These funded projects will provide greater access to high-quality legal assistance for low-income Americans and enhance the operations of legal aid organizations around the country. 
Established in 2000, the program distributes grants annually to LSC-funded legal services providers. Since the program's inception, LSC has awarded 826 grants totaling more than $77 million to fund technology projects. Grant recipients have used this funding to create innovative ways to better serve clients, strengthen program capacity and support the work of pro bono attorneys. 
"LSC's Technology Initiative Grants support projects that improve the delivery of legal services and information to people who would otherwise have to navigate the legal system alone," said LSC President Ronald S. Flagg. "These projects use technology to leverage scarce human resources and increase access to justice for low-income individuals and families facing critical legal needs such as unemployment, evictions, or domestic violence." 
Members of Congress congratulated legal aid organizations in their states or districts for receiving TIG funding. 
"Kansas Legal Services goes above and beyond to serve those in need, and I applaud the Legal Services Corporation for investing in the expansion of their mission in my home state," said Kansas Sen. Roger Marshall. "Through these substantial Technology Initiative Grants, KLS will be able to better communicate with the clients they are advocating for, as well as provide a safe space for domestic violence survivors to communicate parenting details and time exchanges. These are essential developments that are sure to help Kansans in their time of need." 
"Without equal access to legal resources and representation, there is no justice for all," said Connecticut Sen. Chris Murphy. "This federal funding will help LSC leverage technology to match Connecticut attorneys with people in Connecticut who need access to legal aid. As a member of the Senate Appropriations committee, I'm continuing to push for more funding for LSC so they can continue to do their important work in our state." 
"It's great news that Bay Area Legal Services was awarded this Technology Initiative Grant, which will help educate and empower youth in foster care throughout the state," said Florida Sen. Marco Rubio. "I am grateful to Legal Services Corporation for their commitment to serving the foster care community and survivors of domestic violence." 
TIG funding will support the development of new tools for vulnerable populations. Northeast Legal Aid in Massachusetts will use TIG funding to develop a new app to assist low-income tenants facing poor housing conditions. Bay Area Legal Services will use its grant to develop a web and mobile platform that empowers youth in foster care throughout Florida. 
Other TIG-funded projects will bolster existing case management and online intake systems to allow legal services providers to more effectively serve clients. 
In Pennsylvania, Neighborhood Legal Services will use a $35,000 grant to assess its IT environment and determine how it can improve its technology to better serve clients, support advocates and increase overall efficiency.