Deadline Extended to Apply for LSC Loan Repayment Assistance Program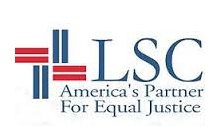 The deadline for applying for the 2020 Herbert S. Garten Loan Repayment Assistance Program has been extended to May 13, 2020. The Open Application period began on Monday, March 16, 2020 and had an original deadline for application submissions of Monday, April 13, 2020. That deadline has now been extended through Wednesday, May 13, 2020 at 5:00 PM Eastern Time.  
Beginning in 2005, the Legal Services Corporation (LSC) has made forgivable loans to attorneys employed by LSC-funded legal services programs (LSC grantees) to help them repay their law school debt and to help LSC grantees recruit and retain qualified attorney staff. 
Attorneys who are selected may receive forgivable loans for up to three (3) years depending on their continued eligibility and available funding. For each annual term, the loan payment may be forgiven as long as the participating attorney remains employed for the full annual cycle at the employing LSC grantee and otherwise remains eligible. 
More information and instructions on applying for the program are available from LSC at https://www.lsc.gov/grants-grantee-resources/our-grant-programs/loan-repayment-assistance-program.