Pennsylvania Legal Aid Network Inc. Excellence Awards Sponsorship and Advertising Opportunities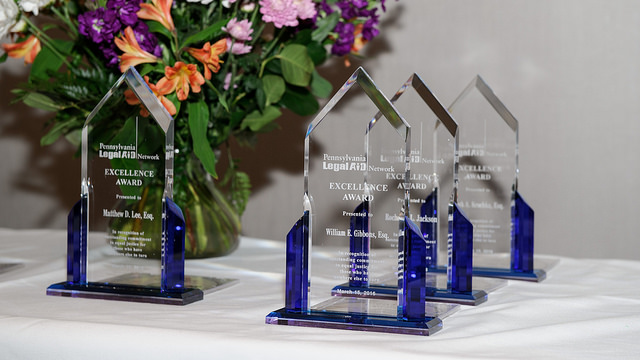 Please consider supporting civil legal aid and the extraordinary accomplishments of our 2023 Excellence Award Winners by advertising in this year's program booklet or sponsoring our event. 
This year we also celebrate fifty years of supporting free civil legal services for low-income Pennsylvanians facing critical civil legal issues at our special 2023 Excellence Awards & Golden Gala Celebration! 
Sponsorship Opportunities
Thank you for your interest in sponsoring our event. Sponsorship packages are available at tiered "metallic" levels. 
Sponsors will gain exposure on our website with your organization featured as a supporter of our event. And to increase the impact of your sponsorship, we will also recognize your organization on our social media accounts.
You will receive formal recognition at our event and in our event program and one free full-page ad placement. Each package also includes a number of free tickets to our event:
Gold Sponsor - $5,000 
10 Event Tickets
Silver Sponsor - $1,000 
2 Event Tickets
Bronze Sponsor - $500 
1 Event Ticket
Platinum Sponsorship opportunities are also available. Please contact Jayme Cassidy at jcassidy@palegalaid.net for details.
Show your support for civil legal aid and the 2023 Excellence Award recipients by purchasing a sponsorship package. Contact us for more details.
Advertising Opportunities
Thank you for your interest in advertising in our program booklet. The following options are available: 
The following options are available:
Full-Page (5.5 inches x 8.5 inches) - $200
Half-Page (5.5 inches x 4.3 inches) - $100
Ads can be color, grayscale or black and white. High resolution images are best. Following the purchase of an advertisement, you will receive an email with additional information, like how to submit content. 
Purchase advertising space to be featured in our program booklet.
For inquiries about advertising and sponsorship packages, please contact Brianna Bosak at bbosak@palegalaid.net or call (717) 710-3840.
---
Pennsylvania Legal Aid Network, Inc. (formerly Pennsylvania Legal Services) is a public charity under 501 (c)(3) of the Internal Revenue Code and is registered with the PA Department of State, Bureau of Charitable Organizations, Registration #3693. A copy of the official registration and financial information may be obtained from the PA Department of State by calling toll-free, within Pennsylvania 1-800-732-0999. Contributions are deductible to the extent permitted by law. The PLAN, Inc. tax exempt ID number is 23-1892464/000.