About the 2018 Outstanding Leadership in Support of Legal Services Award Recipients
The Honorable Dick Thornburgh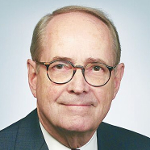 The Honorable Dick Thornburgh served as Governor of Pennsylvania, Attorney General of the United States under two presidents and Under-Secretary-General of the United Nations during his career in public service.
Elected Governor of Pennsylvania in 1978 and re-elected in 1982, Governor Thornburgh was the first Republican ever to serve two successive terms in that office. 
After his unanimous confirmation by the United States Senate, Governor Thornburgh served three years as Attorney General of the United States (1988-1991) in the cabinets of Presidents Ronald Reagan and George H.W. Bush. He mounted an unprecedented attack on white-collar crime as the Department of Justice obtained a record number of convictions of savings and loan and securities officials, defense contractors and corrupt public officials. 
He established strong ties with law enforcement agencies around the world to help combat drug trafficking, money laundering, terrorism and international white-collar crime.
As Attorney General, Governor Thornburgh played a leading role in the enactment of the Americans with Disabilities Act. He also took vigorous action against racial, religious and ethnic "hate crimes," and his office mounted a renewed effort to enforce the nation's anti-trust and environmental laws.
Governor Thornburgh is a recipient of a "Lifetime Achievement Award" from The American Lawyer magazine for "important contributions to public life while building an outstanding private practice."
Early on in his legal career, Governor Thornburgh believed access to legal help should not be a privilege reserved for those who could afford to pay.
He was one of the founding board members of Neighborhood Legal Services in Pittsburgh. His advocacy for the availability of civil legal aid continues to this day.
Recognizing that legal aid is a lifeline for many and essential to our system of justice, Governor Thornburgh recently advocated for the preservation of the Legal Services Corporation (LSC) when the Trump Administration proposed to eliminate it. He penned two op-ed pieces in support of continued federal funding for LSC and currently serves on its Leadership Council helping to raise public awareness on the crisis in civil legal aid and the importance of providing equal access to our justice system to low-income Americans.
---
The Honorable Stewart J. Greenleaf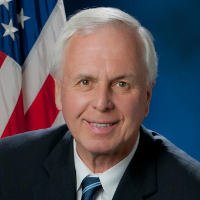 The Honorable Stewart J. Greenleaf has been a member of the Pennsylvania Senate since 1979. He previously served in the Pennsylvania House of Representatives, as an Upper Moreland Township Commissioner, Assistant District Attorney and Chief of the Appeals Division for the Montgomery County District Attorney's Office, and as an Assistant Public Defender in Bucks County.
Senator Greenleaf graduated from the University of Pennsylvania and the University of Toledo Law School. He is admitted to practice before the United States Supreme Court; United States Court of Appeals for the Federal Circuit; United States Court of Appeals for the Third Circuit, United States District Court for the Eastern District of Pennsylvania; Pennsylvania Supreme Court; Pennsylvania Superior Court; and Pennsylvania Commonwealth Court.
He has appeared as counsel in over 400 cases in the Pennsylvania Appellate Courts, United States Supreme Court, Federal District Courts, and Courts of Appeals.
Senator Greenleaf is a member of the Pennsylvania and Montgomery County Bar Associations. He is Chairman of the Senate Judiciary Committee. Senator
Greenleaf is a true champion of access to justice and has distinguished himself as a strong supporter of Pennsylvania's legal aid programs by supporting funding, as well as vital legislation and policy.
---
The Honorable Ronald S. Marsico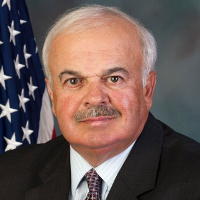 The Honorable Ronald S. Marsico represents the 105th Legislative District in Pennsylvania, which includes Lower Paxton, South Hanover, and West Hanover Townships. He was first elected to the House of Representatives in 1988 and is the Dean of the 25-member South Central Caucus. He is also Chair of the House Judiciary Committee since 2007.
Representative Marsico authored 28 bills that have become law -- including cracking down on unwanted invasions of privacy, creating safe havens for unwanted infants at Pennsylvania hospitals and increasing penalties for sexual assault of young children.
He makes it a priority to work on laws protecting children, crime victims, and the vulnerable. His legislation created the Task Force on Child Protection, which led to vast changes to the way that Pennsylvania protects children.
He spearheaded legislation to improve Pennsylvania's sexual offender registration statute, commonly known as Megan's Law. His work deterred the cyberbullying of children and expanded anti-hazing laws to protect children in secondary schools. He authored legislation, known as the Safe Haven Law, to allow parents to relinquish newborns to hospitals without criminal charges.
Throughout his legislative career and as chairman of the Judiciary Committee, he prioritized public safety and has been supportive of access to justice issues. Representative Marsico, as Chair of the House Judiciary Committee, was instrumental in working to garner the votes to support filing fee legislation that provides an essential revenue stream for civil legal aid.