Pennsylvania Legal Aid Network Presents 2012 Excellence Awards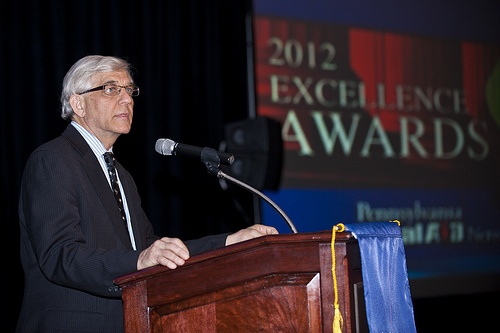 The Pennsylvania Legal Aid Network (PLAN) honored ten recipients of the 2012 Excellence Awards at its annual awards banquet on Tuesday, March 27, 2012 at the Harrisburg Hilton. The Honorable John E. Jones III, United States District Judge of the Middle District of Pennsylvania was the featured speaker at the event.
"The work of the Pennsylvania Legal Aid Network (PLAN) is honorable and vitally important as more of our residents require civil legal assistance in resolving critical problems involving such basic needs as shelter, healthcare, income and personal safety," said Gerald A. McHugh Jr., Esq, President of the Pennsylvania Legal Aid Network, Inc. Board of Directors. "The annual awards banquet provides the opportunity to applaud these individuals, who everyday give those who have nowhere else to turn, equal access to justice."
The awards recognize legal aid professionals and friends of civil legal aid who support the clients served by the civil legal programs that comprise the Pennsylvania Legal Aid Network. PLAN solicited nominations from across the Commonwealth and based its selection on a variety of criteria that demonstrated excellence and diligence in helping improve the availability and quality of civil legal services for low income people and victims of domestic violence in Pennsylvania.
2012 Excellence Award Recipients - Video Tributes
The following individuals were presented the 2012 Excellence Awards:
Mary K. Austin, Esq.
Senior Associate Counsel with UPMC in Pittsburgh, PA

Carolyn Carter, Esq.
Deputy Director of Advocacy of National Consumer Law Center, Gettysburg, PA

M. Francesca Chervenak, Esq.
Managing Attorney with Pennsylvania Health Law Project in Pittsburgh, PA

Wayne Jacobs
Executive Director of X-Offenders for Community Empowerment in Philadelphia, PA

Minta Livengood
Board Member & Equal Justice Advocate, Laurel Legal Services from Saltsburg, PA

Suzanne Noble, Esq.
Staff Attorney (retired) formerly with Legal Aid of Southeastern PA in Chester, PA

Robert A. Oakley, Esq.
Executive Director of Northwestern Legal Services of Erie, PA

Irwin L. Trauss, Esq.
Supervising Attorney with Philadelphia Legal Assistance Center in Philadelphia, PA

Pamela Walz, Esq.
Supervising Attorney with Community Legal Services in Philadelphia, PA

Laurie Yurejefcic
Paralegal with MidPenn Legal Services of Lebanon, PA
"The mission of the Pennsylvania Legal Aid Network is to ensure equal access to justice so that Pennsylvanians can have representation, when facing important civil legal concerns, affecting their safety, health, shelter and survival," said Samuel W. Milkes Esq., Executive Director of PLAN. "Our Excellence Award recipients epitomize the tireless efforts of legal aid advocates and friends in the private bar who work to deliver on the promise of justice for all."