PLAN Welcomes 2022 Martin Luther King, Jr. Program Summer Interns
Pennsylvania Legal Aid Network, Inc. has launched the 2022 Martin Luther King, Jr. Internship Program. This year marks the 30th Anniversary of the MLK Internship Program placing law students as summer interns in legal aid programs across Pennsylvania. The program provides an opportunity for law students who are oriented toward social justice to gain some real-life experience into the legal problems faced by low-income individuals and families.
The interns begin their summer internships with a two-day hybrid poverty law orientation training on May 17 and 18, with some interns gathering in Harrisburg, PA while others participate virtually. The group receiving training included IOLTA and Equal Justice Works fellows, in addition to the ten PLAN Martin Luther King, Jr. Interns, all hailing from a variety of law schools across Pennsylvania and throughout country.
Following the training program, the PLAN MLK Program interns will embark on their summer of service with their host programs. PLAN network programs hosting interns this year include Community Justice Project, Justice at Work, Legal Aid of Southeastern Pennsylvania, North Penn Legal Services, Northwestern Legal Services, Pennsylvania Health Law Project, Pennsylvania Institutional Law Project, Pennsylvania Utility Law Project, Regional Housing Legal Services, and Southwestern Pennsylvania Legal Aid.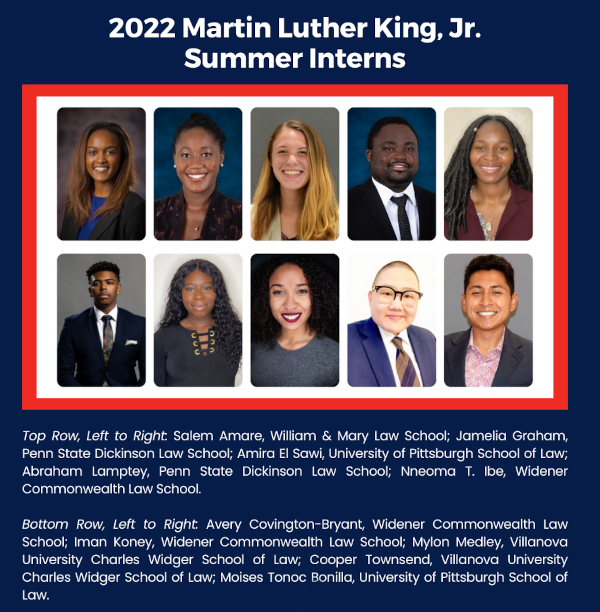 The MLK Internship Program is intended to initiate new lawyers to the lifelong commitment of providing access to justice for all individuals regardless of their ability to pay. Students engage in unique situations through which they learn to better understand the special legal issues facing individuals who live in poverty and low-income communities. 
MLK Interns experience direct client contact, participate in court and administrative hearings, and conduct legal research and writing on actual cases under the supervision of seasoned legal aid attorneys. While gaining valuable experience and insight into the plight of our low-income population, the summer interns provide valuable and necessary service to the Pennsylvania Legal Aid Network program offices in which they are placed.
For more information on the Martin Luther Internship Program please visit https://palegalaid.net/internships-fellowships.