PILP Files Lawsuit on Behalf of Man who was Choked While In Restraints, Subjected to Racial Slurs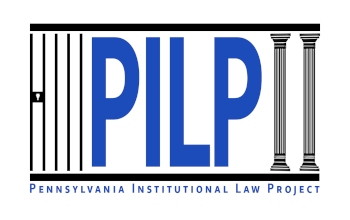 On November 14, 2023, the Pennsylvania Institutional Law Project (PILP) filed a lawsuit against Warden Craig Lowe and other staff at the Pike County Correctional Facility (PCCF) on behalf of Damion Davis, who was subjected to excessive force, racist abuse, and retaliation in December 2021, when he was being held at the jail as an immigration detainee. PCCF has a contract with U.S. Immigration and Customs Enforcement to detain immigrants.
The complaint, filed in the United States District Court for the Middle District of Pennsylvania, details a series of alarming incidents that began when Mr. Davis made a homemade envelope to send a letter to his wife. This minor alleged rule violation led to corrections officers slamming Mr. Davis into a wall and then pepper-spraying him in the face—while he was in handcuffs and shackles—causing a corneal burn in one of his eyes. Following this painful encounter, jail staff placed Mr. Davis in a restraint chair for approximately 10 hours. The officers falsely claimed that Mr. Davis was suicidal, prompting his placement in the restraint chair.
While Mr. Davis was in the restraint chair, a correctional officer choked him to the point of him spitting up blood. Additionally, during this violent assault, one officer called Mr. Davis, who is Black, the n-word, and, when he said he couldn't breathe, another officer callously asked if he thought he was "George Floyd." Jail staff then kept Mr. Davis in solitary confinement for six months in retaliation for his speaking up against the abuses he endured.  
"No one should be shackled and beaten the way I was," said Mr. Davis. "I'm filing this lawsuit because I don't want anyone else to be subjected to the racist abuse I experienced at Pike County Correctional Facility."
Through this lawsuit, which includes excessive force claims, a race discrimination claim under the Equal Protection Clause, and claims against medical staff who authorized and participated in his restraint-chair placement, Mr. Davis seeks to vindicate his rights and hold the individuals who harmed him accountable.
"Mr. Davis was brutalized because he is a Black man who spoke up for himself," said Matthew A. Feldman, a supervising attorney at PILP. "This lawsuit underscores the importance of exposing the abuse immigration detainees and other incarcerated individuals are subjected to in custody."
PILP is committed to advocating for the rights of Mr. Davis and others like him who have suffered injustices in immigration detention. The organization is dedicated to ensuring that incarcerated individuals are not subjected to inhumane treatment, racial bias, or retaliation for asserting their rights.
Mr. Davis is represented by PILP attorneys Matthew A. Feldman and Evangeline Wright. Read a full copy of the complaint here.