Nominations Open for the 2023 Excellence Awards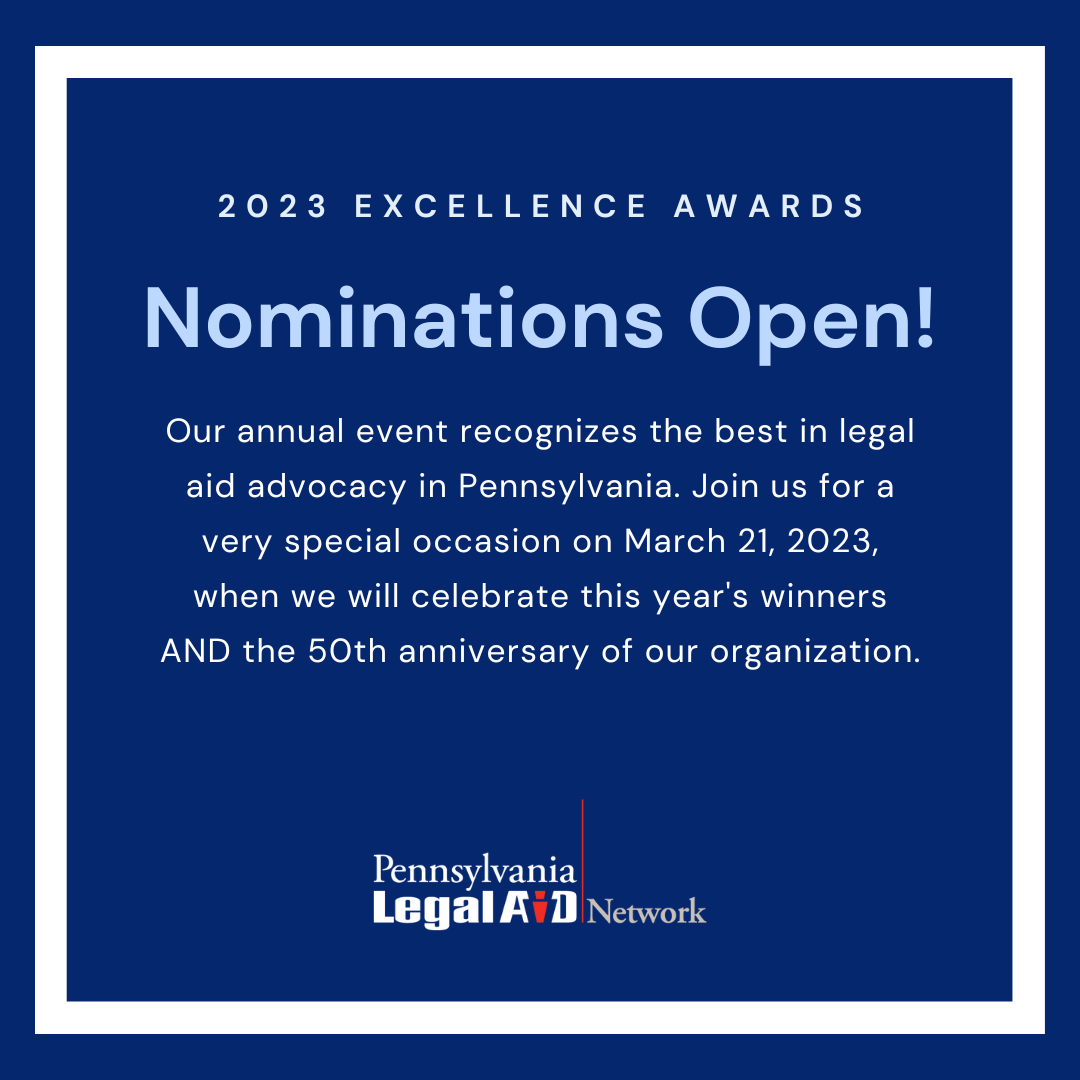 Nominations open today for the 2023 Excellence Awards, an annual event recognizing the efforts of the best legal aid advocates in Pennsylvania.
Three new categories are being introduced as part of this year's awards – Best Legal Services Advocacy, Best Pro Bono Advocacy, and Best Community Advocacy.
Within the Best Legal Services Advocacy category, three distinct awards are being given: Best Attorney Advocate Award; Best Non-Attorney Advocate Award; and Best Systemic Advocacy Award.
Nominations for the three Best Legal Services Advocacy awards are open to all staff who are currently employed by a program of the Pennsylvania Legal Aid Network. Awards for Best Attorney Advocate and Best Non-Attorney Advocate will be given to individuals, but the Best Systemic Advocacy Award may be presented to a group, person, or project.
The Best Pro Bono Advocacy Award is open to lawyers, judges, law firms, and bar associations that have made significant contributions in the provision of pro bono legal services. Nominees must be admitted to practice in Pennsylvania and may not be an employee of an organization providing free or low-cost legal services to the poor.
The Best Community Advocacy Award is open to clients, community leaders, legislators, and legal aid advocates working for programs outside of the Pennsylvania Legal Aid Network. The category recognizes individuals whose efforts have helped to expand access to legal services for low-income people. Nominees for this category may not be employees of a program in the Pennsylvania Legal Aid Network.
Nominations will be accepted through October 28, 2022.
Winners will be announced in December 2022 and celebrated at the 2023 Excellence Awards event, which will be held in Harrisburg on March 21, 2023. In addition, a special 50-year anniversary celebration will mark the evening's program this year.
For more details about the 2023 Excellence Awards or to submit a nomination, visit the Excellence Awards page on our website.