LSC Releases Disaster Task Force Report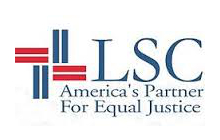 The Legal Services Corporation's (LSC) Disaster Task Force held an event marking the release of its Disaster Task Force Report on Wednesday, March 4, 2020 at the Louisiana Supreme Court. The Task Force Report offered recommendations on how legal services providers can collaborate with outside partners to help vulnerable communities prepare for, respond to and recover from disasters.
Low-income survivors are particularly vulnerable to disasters and face pressing legal issues in the aftermath. They may require help obtaining copies of important documents such as birth certificates, driver's licenses and Social Security cards to apply for or restore benefits and support. Low-income families who need housing after an emergency are more susceptible to scams and price-gouging. Disasters also increase needs in the core areas of practice for legal aid, such as public benefits, domestic violence prevention, consumer law and fraud prevention.
New Orleans has been hit hard by disasters. A 2017 study of metro areas found that New Orleans ranked the highest in the nation for household concern about natural disasters. This year marks the 15th anniversary of Hurricane Katrina. Many other calamities have plagued the region in the intervening years, including the Great Flood of 2016 with damages of $10-$15 billion.
The Task Force Report lays out concrete steps for communities to better respond in disaster situations and emergencies. Among the Report's most significant findings was the need for legal services organizations to have a seat at the table during disaster preparation planning discussions. Several of the recommendations highlight the importance of building partnerships in both preparing for and responding to disasters.
The report also stresses the need for greater preparedness on every level, including the courts and legal aid organizations who cannot provide legal services if they are not operational themselves. The Report encourages organizations to maintain comprehensive, up-to-date disaster plans and urges states to adopt model court reforms to facilitate post-disaster recovery. 
The Task Force is made up of emergency management experts, representatives from LSC-funded legal aid programs, members of the judiciary, and other leading stakeholders working to highlight and address the legal aid component of disaster response and recovery. The task force is led by three co-chairs: former New York Chief Judge Jonathan Lippman, now of Counsel at Latham & Watkins LLP; Martha Minow, Harvard University's 300th Anniversary University Professor and LSC Board Vice Chair Father Pius Pietrzyk. Latham & Watkins served as pro bono counsel to the task force and provided financial support.
The Disaster Task Force recommends that LSC:
Establish a multi-disciplinary working group to assist in implementing the recommendations.
Continue to educate the emergency management community about the importance of integrating legal services providers into their work;
Embrace a leadership role in promoting civil legal aid as a critical component of a community's disaster preparedness, response, and recovery.
The Report organizes its recommendations by the committee structure the 60-member Task Force established to conduct its work: (1) Relationship-Building and Integration of Legal Services into the Nation's Emergency Management Infrastructure; (2) Training Pro Bono Lawyers, Other Volunteers, and Legal Services Providers; (3) Continuity of Operations Planning for Legal Services Providers and the Courts; and (4) Preparing Individuals, Families, and Communities for a Disaster.
 
Executive Summary of Report
Full Report