LSC has extended the 2021 LRAP application deadline to Friday, July 9th.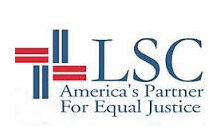 The Legal Services Corporation has announced that the deadline to file applications under the Herbert S. Garten Loan Repayment Assistance Program (LRAP) has been extended to July 9, 2021.
Beginning in 2005, the Legal Services Corporation (LSC) has made forgivable loans to attorneys employed by LSC-funded legal services programs (LSC grantees) to help them repay their law school debt and to help LSC grantees recruit and retain qualified attorney staff. The program is funded through a Congressional appropriation.
Participating attorneys must use LSC's loan repayment assistance program to pay qualifying law school loans and accrued interest and meet all terms and conditions of our loan repayment assistance program.
Beginning in 2021, LSC provides loans of up to $8,000 to approximately 250 eligible attorneys each year. The actual number of loans made each year depends on the availability of federal funding.
If the participating attorney stays employed in good standing with the same LSC grantee through the required twelve months, as certified by the executive director of that grantee, then LSC will forgive the loan (presuming the participating attorney meets all other terms and conditions of the loan agreement.) If the participating attorney stops working at the employing LSC grantee organization during those twelve months, then the entire loan must be paid back to LSC, unless LSC determines the participating attorney had good cause.
Applications for the program this year will be processed through GrantEase, LSC's new grants management system. 
More information and instructions on applying for the program are available from LSC at https://www.lsc.gov/grants/loan-repayment-assistance-program.