LSC Awards More Than $4 Million in Technology Grants to Legal Aid Organizations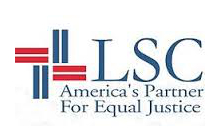 The Legal Services Corporation (LSC) announced today that it is awarding Technology Initiative Grants (TIG) to 30 legal services organizations totaling $4,230,718. The TIG program funds technology projects that provide greater access to high-quality legal assistance and information for low-income Americans.
Established in 2000, the program distributes grants annually to LSC-funded legal aid organizations around the country. LSC has made grants of more than 65 million to fund more than 720 technology projects. Grant recipients have used this funding to create new ways to serve clients, strengthen program capacity, and support the work of pro bono attorneys.
"LSC's Technology Initiative Grants increase access to justice for low-income people with critical civil legal needs," said LSC President Jim Sandman. "These technology projects improve the delivery of legal services and information to the millions of Americans who would otherwise have to navigate the legal system alone."
Members of Congress congratulated legal aid organizations in their districts for receiving TIG funding.
"As a strong supporter of the Legal Services Corporation, I am thrilled the Philadelphia Legal Assistance Center will be receiving this important grant," said Representative Brian Fitzpatrick (PA-1) about a grant to develop online tools to help individuals file Chapter 7 bankruptcy petitions. "Bankruptcy processes are deeply stressful, confusing, and difficult. This grant will help ensure residents of Southeast Pennsylvania understand the rights they are afforded under the law and expand their access to legal counsel. I look forward to continuing to work alongside LSC to give all Americans, regardless of income, a fair shake in the judicial process."
Senator Patrick Leahy (D-VT) applauded a grant to Legal Services Vermont. "Fundamental fairness and justice require that access to legal services should not be limited only to those who can afford a lawyer," he said. "This grant will support the critical work of Legal Services Vermont, whose website alone connects thousands of low-income Vermonters to the information they need when faced with civil legal challenges. As Vice Chairman of the Senate Appropriations Committee, I am proud to support the work of Legal Services Corporation as they help those in need navigate our justice system."
Among the 30 funded initiatives are several projects that improve online self-help resources. Other projects will increase access to justice for vulnerable populations. For example, American Samoa Legal Aid, Atlanta Legal Aid Society, and Northeast New Jersey Legal Services Corporation will use TIG funding to ensure their services are accessible to individuals with limited English proficiency, while Northwest Justice Project in Washington state will use technology to better reach deaf and hard-of-hearing clients.
In Pennsylvania, in addition to the grant to Philadelphia Legal Assistance, North Penn Legal Services will receive $195,000 to create a statewide, online system for conducting quick intake and referrals. The system will connect low-income individuals to a legal aid provider or resource that can best meet their needs. It will take account of the case priorities of project partners, adding needed flexibility when directing users to an appropriate provider during intake.
A full list and description of the 2019 TIG projects is include with LSC's original press release on the grants.