Legal Services Corporation's Report Tracks Trends in Legal Aid Amid the Pandemic's Challenges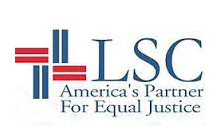 The Legal Services Corporation (LSC) today released By the Numbers: The Data Underlying Legal Aid Programs. The report provides an overview of the work undertaken by LSC-funded legal aid organizations around the country in 2020. It includes data on the number of cases closed, details on the types of legal services provided, client demographics and more. The report includes both national and state-level data and allows for comparisons over time and across different geographic areas. 
The data reflect the pandemic's enormous disruptions to the lives of low-income people and the legal services provided by LSC-funded organizations. Most legal aid offices were physically closed during much of 2020, with LSC grantees operating remotely. In-person outreach to clients, in-person intake and face-to-face services were largely suspended, with grantees developing remote means to perform these functions. 
More than 1.58 million people live in households that were served by LSC-funded legal aid organizations in 2020. The report includes demographic information about the populations helped by LSC grantees. For example, more than 472,000 (71.7%) of clients were women, and more than 129,000 (19.6%) were 60 years of age or older. 
The report also offers a comprehensive overview of LSC grantees' operations. In 2020, LSC-funded legal services organizations closed more than 659,000 cases despite the pandemic's challenges. This includes more than 204,000 Family Law cases and more than 200,000 Housing Law cases. In addition, LSC grantees helped more than 75,000 people with legal education and information at court help desks and in workshops and clinics, both virtually and in-person. 
Read the report for more insights into LSC grantees' work on behalf of low-income people seeking civil legal assistance.  
---
Legal Services Corporation (LSC) is an independent nonprofit established by Congress in 1974 to provide financial support for civil legal aid to low-income Americans. The Corporation currently provides funding to 132 independent nonprofit legal aid programs in every state, the District of Columbia, and U.S. territories.