Legal Services Corporation Awards $5.1 Million in Technology Grants to 29 Legal Aid Organizations 
Philadelphia Legal Assistance to receive grant to develop Student Loan Debt website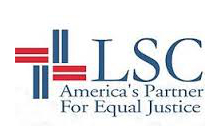 The Legal Services Corporation (LSC) announced today that it is awarding 33 Technology Initiative Grants (TIG) totaling $5.1 million. The TIG program supports civil legal aid organizations in leveraging technology to deliver high-quality legal assistance to low-income Americans. This year, 29 organizations are receiving TIG funding.
Established in 2000, the TIG program distributes grants annually to LSC-funded legal services providers. LSC has awarded 892 grants since the program's inception—totaling more than $86 million to fund legal technology projects. Grant recipients have used this funding to improve client intake efficiency, streamline case management, enhance cybersecurity, and create legal information websites and self-help legal resources.  
"Utilizing technology to create innovative tools empowers legal aid organizations to increase their capacity to provide crucial resources to low-income Americans," said LSC President Ron Flagg. "The Technology Initiative Grants support projects that improve the delivery of legal services and information to people who need help navigating civil legal problems like housing, consumer and family issues."
This year's TIG recipients are taking several innovative approaches to leveraging technology to strengthen their organizations and expand access to legal services. 
Among the recipients, Philadelphia Legal Assistance received a grant of $440,000 to build an innovative website that will assist low-income Americans struggling with student loan debt. 
The program will partner with Upsolve, an online bankruptcy nonprofit, to create tools, content and an online community focused on debt relief options. Users will be screened for eligibility for remedies like loan forgiveness programs and bankruptcy discharge. The site will raise awareness of relief programs and provide guided assistance for qualified borrowers to pursue student debt elimination.  
Other Innovative grants included:
Arizona's Community Legal Services is installing self-service legal kiosks where people in rural areas can access online legal resources, attend video conferences and print important documents. 
Legal Aid Foundation of Los Angeles is developing artificial intelligence (AI) capabilities within its LegalServer case management system to reduce administrative burdens on staff by automating key documentation processes. 
Legal Aid Society of Mid-New York will create a centralized online intake portal for eviction defense referrals for six New York legal aid organizations. 
Members of Congress congratulated legal aid organizations in their states and districts on receiving TIG funding.  
"Every American deserves access to a fair justice system, regardless of income or zip code," said Senator Joe Manchin. "Legal Aid of West Virginia is an invaluable organization for the Mountain State, and I am pleased that they have been awarded $138,000 in federal funding to invest in new technology to increase access to legal services for West Virginians. As a member of the Senate Appropriations Committee, I will continue advocating for resources to help low-income individuals and families navigate our judicial system."
"Kansas Legal Services is a fantastic organization that provides devoted legal aid to vulnerable communities across Kansas, helping those who need it most and otherwise may have no one else there for them," said Senator Roger Marshall. "I applaud this grant and look forward to seeing how these funds will amplify the work that KLS is doing, and expand its reach to even more Kansans in need."  
"I'm very proud of the work that the Philadelphia Legal Assistance Center and Legal Services Corporation do to make sure that every Pennsylvanian has a fair shot in our legal system, whether they can afford to hire a lawyer or not," said Senator John Fetterman. "This important funding will kick off a new program to help Pennsylvanians struggling with student loan debt understand their repayment and forgiveness options. For so many Pennsylvanians, being able to manage or reduce student loan debt is truly life-changing, and I'm grateful for this investment in our commonwealth."
"Every Michigander should have access to legal representation, no matter their income. I am pleased that federal funding will help protect the rights of Michiganders afforded to them under the law," said Representative Dan Kildee. "I will continue working to bring federal funding home to mid-Michigan."  
 Details on each grantee organization, their project and grant amounts are listed in the original press release from LSC linked below. More information on the TIG program is available here on LSC's website.