Trial Advocacy Skills Training - 2023 Pre-Conference Program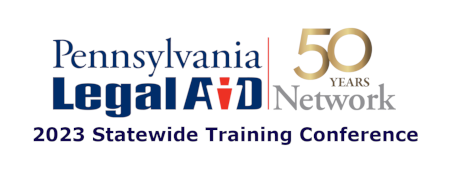 Pennsylvania Legal Aid Network, Inc. is presenting a Trial Advocacy Skills Training as a Pre-Conference training on September 13, 2023, prior to the full 2023 PLAN Network Training Conference on September 14-15, 2023.
This interactive training for PLAN Network staff will combine lectures with small group workshop activities using a hypothetical family law case file.
Note this training will include a homework assignment. Materials including an agenda and instructions will be provided in advance of the training. All participants must come prepared to actively participate in the training.
Our training target audience is PLAN attorneys with less than five years of practice experience. Experienced attorneys are welcome to attend should space be available. However, priority will be given to our intended audience. The goal of this training is to assist public interest attorneys in honing their trial advocacy skills.  
This training is limited to 24 participants. Additional registrations will be waitlisted. Registration for PLAN program staff is free. 
CLE Credit:
This year, we will be  7.0 CLE substantive credits will be offered for this full day training event.
Hotel Accommodations
If you are a PLAN staff member who will need hotel accommodations, please note that you will need to make your reservations for yourself either online or by telephone: 
ONLINE: To book your reservation online please click this link: Booking Link: https://bit.ly/BookAtHilton
TELEPHONE: To call your reservation in please dial 717-233-6000, hit Option 1 and use Group Code 53844. 
You will be responsible for paying for your charges before you leave the Hilton. Room, tax and self-parking will be included on your bill (parking will only be included if you are staying over).Day attendees will be responsible for paying for your parking before you leave. Don't forget to get your parking validated before leaving.  
 
Event Details
Wednesday, September 13, 2023
8:30 AM-5:30 PM
Hilton Harrisburg
One North Second Street
Harrisburg, PA 17101
Directions