Members of Congress Join LSC for Release of Study on the Nation's "Justice Gap"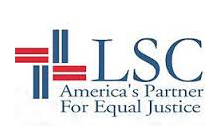 Members of Congress and leaders from the legal and business communities will join the Legal Services Corporation (LSC) on Thursday, April 28, for the release of The Justice Gap: The Unmet Civil Legal Needs of Low-income Americans. The report examines the nation's "justice gap" – the difference between the civil legal needs of low-income Americans and the resources available to meet those needs. 
Millions of Americans grapple with civil legal problems every day. These often involve their most basic needs such as safe housing, access to health care, child custody and protection from abuse. But the legal aid organizations funded by LSC do not have adequate resources to meet demand in the communities they serve. Instead, most low-income Americans are forced to "go it alone," without sufficient access to legal information, advice or representation.  
The new report updates and expands LSC's 2017 Justice Gap Study, providing a fresh assessment of the state of civil legal justice for low-income Americans. It is particularly timely as it explores the justice gap in the context of the COVID-19 pandemic, which has had a disproportionate impact on low-income Americans.
The speakers joining LSC for the release include:   
Senator Ben Cardin (MD) 
Senator Tim Kaine (VA) 
Representative Mary Gay Scanlon (PA-5), co-chair of the Congressional Access to Legal Aid Caucus 
Representative Tom Emmer (MN-6) [recorded remarks] 
United States Associate Attorney General Vanita Gupta 
They will be joined by LSC leadership and members of LSC's Leaders Council, including: 
LSC Leaders Council Co-Chair Kenneth C. Frazier, executive chairman of Merck & Co. Inc.'s board of directors 
LSC Leaders Council Co-Chair Harriet Miers, chair of the Texas Access to Justice Commission and a partner with Locke Lord LLP 
University of Michigan Football Coach Jim Harbaugh, a member of the LSC Leaders Council 
LSC Board Chair John G. Levi 
LSC President Ronald S. Flagg 
A panel discussion, The Justice Gap in America Today and Why it Matters, will discuss the effect of the justice gap on the lives of low-income Americans and the operations of American courts. The speakers will include Chief Justice Loretta H. Rush, Indiana Supreme Court; Chief Judge Anna Blackburne-Rigsby, District of Columbia Court of Appeals; and Rhodia D. Thomas, executive director, MidPenn Legal Services. LSC Board Member John G. Malcolm will moderate the panel.
The event will be held at 2pm ET and will be livestreamed on LSC's Facebook page.  The report itself will go live on LSC's website during the event.  
---
Legal Services Corporation (LSC) is an independent nonprofit established by Congress in 1974 to provide financial support for civil legal aid to low-income Americans. The Corporation currently provides funding to 132 independent nonprofit legal aid programs in every state, the District of Columbia, and U.S. territories.