LSC to Host Virtual Veterans Day Event - Nov. 13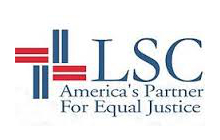 The Legal Services Corporation (LSC) will host its annual Veterans Day Event virtually on Monday, November 13, 2023 from 2:00 PM-3:30 PM Eastern. 
This year's program highlights the legal needs of veterans who are unhoused or at risk for homelessness. The event will feature legal services providers, homelessness advocates and leaders from the U.S. Department of Veterans Affairs including:
Madolyn Gingell, national coordinator, Legal Services for Veterans, U.S. Department of Veterans Affairs
Samuel Holmes, executive director, Homeless Resource Council of the Sierras (CA)
Pye N. Young, managing attorney, Bay Area Legal Services (FL)
Moderator: Will A. Gunn, general counsel and corporate secretary, LSC
If you are interested in learning more about the legal issues that make it difficult for veterans to obtain or maintain stable housing and possible solutions, register here. 
The event will also be livestreamed on LSC's Facebook page and a recording will be available on the LSC YouTube channel shortly after the event.