Legal Services Corporation Awards $38 Million to Support Legal Aid Response to Natural Disasters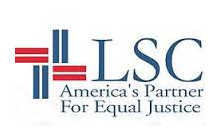 The Legal Services Corporation (LSC) announced today that it is awarding $38 million in grants to 19 civil legal aid organizations in regions impacted by natural disasters. The grants will support the delivery of legal services to low-income Americans in need of assistance due to the consequences of hurricanes, wildfires, earthquakes, floods and severe storms that occurred in 2020 and 2021. Seventeen of the grants will fund new or ongoing disaster-response projects, and the six remaining grants will reimburse costs previously incurred while helping disaster survivors in 2020 and 2021.
This funding for LSC was included in a $28.6 billion emergency supplemental appropriation attached to the Continuing Resolution passed by Congress in September 2021 to fund the government in FY 2022. LSC grantees in the affected areas of Alabama, California, Florida, Iowa, Kentucky, Louisiana, New York, New Jersey, North Carolina, Oklahoma, Oregon, Pennsylvania, Puerto Rico, Tennessee and Texas were eligible for grants from the supplemental funding.  
"Low-income people who confront civil legal issues in the wake of natural disasters face an uphill battle, and they shouldn't have to go it alone," said LSC President Ronald S. Flagg. "We are grateful that Congress recognizes the need for legal assistance in these recovering communities and provided this funding that will help our neighbors repair and stay in their homes, obtain key identification documents, apply for benefits and so much more." 
The National Oceanic and Atmospheric Administration (NOAA) records U.S. natural disasters that result in at least $1 billion in losses. The U.S. experienced 22 disasters of this magnitude in 2020—more than any year previously recorded—and 2021 ranked closely behind that record with 20 natural disasters. It is estimated that 1 in 10 homes were impacted by a natural disaster in 2021.  
Survivors of natural disasters often require both short and long-term legal assistance. Immediate assistance is needed to file for Federal Emergency Management Agency (FEMA) assistance and insurance benefits and to deal with related evictions, unemployment and document replacement. Legal challenges can haunt survivors for years. Cases involving FEMA appeals, bankruptcy, public housing and domestic violence will arise. People can also fall prey to fraud and scams in the wake of a natural disaster. 
From Louisiana hurricanes to California wildfires to an Iowa derecho, these funds will allow grantee civil legal aid organizations to hire additional full-time staff, upgrade outdated technology, expand their pro bono programs and increase community outreach to people in need of legal services. More information on each grantee's award and project plans is available here.  
Included among the grantees was Legal Aid Services of Southeastern Pennsylvania (LASP). The program received a grant of $391,743.54 that will be used to put together a team of attorneys and case managers to provide legal representation for FEMA appeals, housing, bankruptcy, consumer credit and other disaster-related problems affecting low-income people. Through social media and educational events, the organization will conduct outreach to the affected communities to increase awareness of the legal services available. LASP will also recruit pro bono attorneys to assist with disaster legal services.
Members of Congress commended the vital disaster-response efforts that legal aid organizations in their states or districts will undertake with these funds.  
"Indeed, the winter storms of 2021 deeply affected many lives across our state, and even some are still trying to recover," said Rep. Tom Cole (OK-4). "I am delighted that the Legal Aid Services of Oklahoma and Oklahoma Indian Legal Services will receive these substantial grants to help Oklahomans and our state's Native communities get back on their feet. This is certainly a worthwhile investment and I look forward to seeing the good it brings." 
"As our community struggles to recover from Hurricane Ida, COVID and other challenges, it is important that our own government doesn't revictimize its citizens through red tape, legal roadblocks and just not responding," said Rep. Garret Graves (LA-6). "Legal Services Corporation has helped many of those in need navigate through the legal bureaucracy to get the help they need. This funding will provide the resources for attorneys to help with FEMA appeals, insurance claims and many other challenges." 
"Oregonians across the state were greatly impacted by the 2020 wildfires, and many members of our communities are still navigating the difficulties of rebuilding in the aftermath," said Sen. Jeff Merkley. "This grant to the Legal Aid Services of Oregon will provide crucial assistance in ensuring those who have been struggling to recover get the support they need. I greatly support Legal Aid Services and their vital work in assisting Oregonians with housing, consumer protections, and economic recovery in the aftermath of devastating disasters."  
---
Legal Services Corporation (LSC) is an independent nonprofit established by Congress in 1974 to provide financial support for civil legal aid to low-income Americans. The Corporation currently provides funding to 132 independent nonprofit legal aid programs in every state, the District of Columbia, and U.S. territories.