Early Registration OPEN for LSC's 2024 Innovations in Technology Conference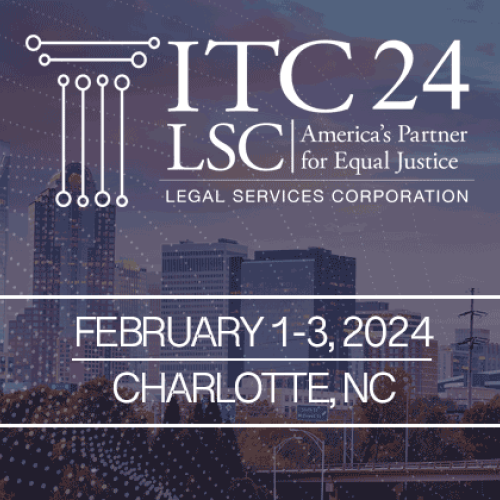 Early registration is now open for the Legal Services Corporation's 2024 Innovations in Technology Conference (ITC24) taking place February 1-3, 2024, in Charlotte NC.  
The ITC24 welcomes hundreds of legal aid advocates, technologists, court and law school staff, pro bono coordinators, and other professionals to network, connect, and be inspired about ways of using technology to promote access to justice and high-quality legal representation for low-income people. 
What Can I Learn? 
Over two and a half days, ITC24 will feature inspiring speakers, short tech talks, affinity groups and over 50 workshops. Attend the 2024 Innovations in Technology Conference to:
Explore the transformative power of innovative technology, including the impact of artificial intelligence on legal technology and its implications for self-represented litigants. 
Learn about the latest developments in legal information websites and online tools that empower individuals to access crucial legal resources conveniently.
Gain insights into the internal operations in legal aid offices, including updated baseline technologies, case management systems, and cybersecurity measures.
Discover technology solutions that enhance the efficiency and effectiveness of legal services delivery, such as data analysis, streamlined intake/triage processes, and automated document assembly.
Identify strategies for using technology to encourage and support pro bono involvement and private attorney involvement in providing legal assistance to low-income individuals.
Space is limited, and it is expected that the conference will sell out, so register early. Early registration rates will be available until October 20. Group discounts are also available for organizations that register five (5) or more participants at the same time. See the ITC24 Conference website for more details. 
Registration Rates (Early/Regular):
Early Registration Pricing ends October 20
ITC Attendee: $675/$725
Groups of 5 or more: $625/$695
Speakers: $475/$525
Full-time students: $350
The conference will take place at the Westin Charlotte. The conference room rate is $195 per room per night plus applicable taxes. Reserve your room now. 
For questions, contact itc@lsc.gov.