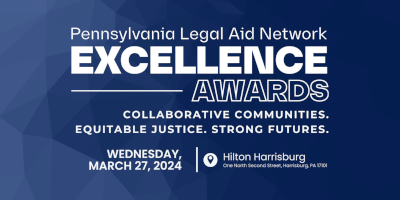 At the core of our Excellence Awards is an inspiring unity. This unity is built upon the relentless dedication of advocates in our Network, the steadfast support of our private bar partners, and the collaborative spirit of community leaders. Their collective efforts not only expand access to civil legal services but also light the way towards justice and equality for Pennsylvania's marginalized and low-income residents.
Every year, we celebrate these outstanding individuals, groups, and initiatives through our Excellence Awards, culminating in an event highlighting the enduring impact of their contributions. We're thrilled to announce that this year's celebration will take place on Wednesday, March 27, 2024. We warmly invite you to join us in this celebration of justice. Stay tuned for announcements about our award recipients, esteemed keynote speaker, and event program, as well as information about tickets, sponsorships, and hotel reservations.
Event Date and Time:
2024 Excellence Awards 
Wednesday, March 27, 2024      
5:30 PM - 7:30 PM
Add to my Calendar   
Google Calendar  |  iCal Calendar  |  Office 365  |  Outlook  |  Outlook Web  |  Yahoo
Location:
Hilton Harrisburg      
One North Second Street      
Harrisburg, PA 17101
Transportation: 
Driving? See driving directions from Google Maps. 
Taking the train? See walking directions from the Harrisburg Amtrak Station. 
Parking: 
Valet parking is available at the entrance of the hotel. Guests who wish to self-park may use the Walnut Street Garage, which has direct access to the hotel.      
     
The address for the Walnut Street Garage is:  
215 Walnut Street      
Harrisburg, PA 17101
On-street parking is also available and enforced by meter, Monday through Saturday from 8:00 AM - 7:00 PM.     
     
PLEASE NOTE: Free on-street parking is available in downtown Harrisburg, on Second Street in front of the Hilton (from Market Street to State Street), from 5:00 PM - 7:00 PM. To avoid parking fines and violations, please check meters for rates, payment options, and time limits in each zone. 
Event Details
Wednesday, March 27, 2024
5:30 PM-7:30 PM Eastern
Hilton Harrisburg
One North Second Street
Harrisburg, PA 17101
Directions