Pennsylvania Legal Aid Network, Inc. Presents 2017 Excellence Award Winners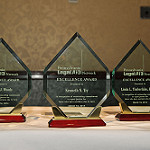 The Pennsylvania Legal Aid Network (PLAN) honored the recipients of the 2017 Pennsylvania Legal Aid Network Excellence Awards on March 28, 2017 at the annual awards dinner held at the Hilton Harrisburg.
The Keynote Speaker at the event was The Honorable Josh Shapiro, Attorney General of Pennsylvania.
The mission of the Pennsylvania Legal Aid Network is to ensure equal access to justice so that Pennsylvanians can have legal representation when facing important civil legal concerns affecting their safety, health, shelter and survival. 
The PLAN Excellence Awards are presented each year to individuals, groups, and/or organizations that have established excellence and diligence improving the availability and quality of civil legal services for low income people and victims of domestic violence in Pennsylvania. 
The list of award recipients includes a variety of civil legal aid professionals and friends of civil legal aid across Pennsylvania who were recognized for their efforts in support of the clients served by the civil legal programs of the Pennsylvania Legal Aid Network.
Fulton Financial Corporation was presented with the Outstanding Leadership in Support of Legal Services Award in recognition of the bank's long-standing support and investment in Pennsylvania IOLTA and civil legal aid as an IOLTA Platinum Leader Bank since March 2009.  Platinum Leader Banks exceed the PA IOLTA program requirements by paying a 1%, premium yield, on IOLTA accounts. Since 2009, Fulton Financial Corporation has contributed more than $2.4 million to the IOLTA program
The recipients of the 2017 Excellence Awards are:
A video tribute was shown highlighting the accomplishments of each of the 2017 award recipients. Individual video tributes may be viewed below or by clicking on the recipients name above.