2012 PLAN Statewide Conference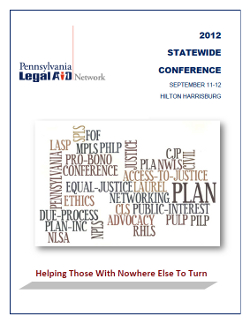 The 2012 Pennsylvania Legal Aid Network Conference was held on September 11-12, 2012 in Harrisburg, PA. Approximately 180 attendees were present for the two-day conference which provided 35 workshops on a variety of topics relevant to the provision of legal aid to the indigent.
The Conference at a Glance from the conference, available below, lists the various programs that were offered.
Workshop materials from the conference were presented to the attendees on a Resource CD. Supplemental materials that were presented at the conference are also available.
All of the materials from the conference, both those appearing on the disk and the supplemental materials, are available to PLAN member program staff in the PLAN Brief and Information Bank. Click on the link below and then follow the link to "Training Materials". A member login to the PLAN website is required to view these materials.
If you are a PLAN member program staff member and you do not remember your login password, please click here to reset your password.
If you are a PLAN member program staff member and do not have a login, please click here to set up a member account.