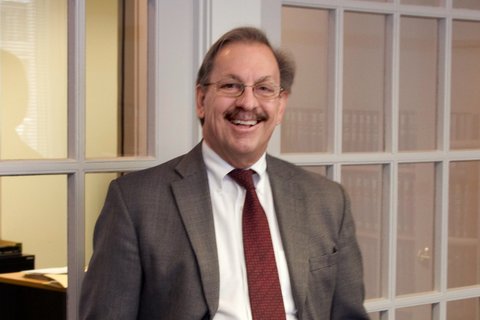 We are deeply saddened on the passing of Peter Macky, former Managing Attorney in the Sunbury office of North Penn Legal Services. Pete passed away suddenly on Wednesday, September 14, 2016 in his home in Lewisburg. Pete had retired from North Penn on May 31, 2016 after 42 years of service to the organization.
Pete served as a strong advocate for his clients and was an active and was a valued member of the Pennsylvania legal aid community throughout his time at North Penn Legal Services. He is a former recipient of the PLAN Excellence Award, as well as several other awards, including an achievement award from the Northumberland Court of Common Pleas for over 40 years of service.
He received a bachelor of arts degree in political science from Bucknell University in 1970 and furthered his studies at George Washington University Law School where he earned his degree in 1973.
In 1972, as a law student, Pete worked for Ralph Nader, as an original member of Nader's Raiders, putting together profiles of the 484 members of Congress as part of a much larger Congressional investigation project being conducted by Nader's group.
Upon completing law school, Pete began his work in public service as one of the original attorneys in the Sunbury office of Susquehanna Legal Services, which later became part of North Penn Legal Services. Pete and his colleagues did groundbreaking legal work to bring quality legal representation to low income litigants that had never before had it, and were considered "revolutionaries" at the time as they worked to ensure court access to everyone regardless of ability to pay.
During his 42 years of service he helped to educate the court as to the rights of low income litigants as he fought to protect those rights. He further assisted in the effort by creating the pro se paperwork currently used for those who must represent themselves in Protection From Abuse, custody and child support cases. Pete also was innovative in his work, producing several self-help legal videos that made the litigation process easier to understand and navigate for those involved in the process.
Even after his retirement, he remained active in the legal community through dedicating volunteer hours at North Penn, assisting Transitions of PA with its Civil Litigation Representation Project, and teaching at Susquehanna University.
I most recently spoke with Pete when he attended the Martin Luther King, Jr. Reception in Harrisburg, to celebrate an intern he had supervised.
On a personal note, I will greatly miss Pete, who I considered a friend, a great and creative advocate, and a person everyone enjoyed.