Supervising Attorney - Pennsylvania Utility Law Project, Harrisburg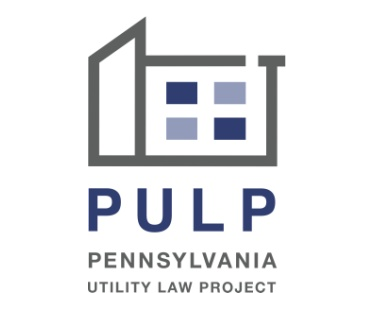 The Pennsylvania Utility Law Project (PULP) is seeking a passionate and motivated individual who desires to make a significant contribution to the well-being of low-income Pennsylvanians to serve as its Supervising Attorney.
PULP, located in Harrisburg, Pennsylvania, is the designated state-wide utility advocacy project of the Pennsylvania Legal Aid Network, and is administered by Regional Housing Legal Services (RHLS). Our mission is to assist Pennsylvania's low-income residential utility and energy consumers to connect with and maintain affordable utility and energy services within their homes. To achieve our mission, PULP advocates on behalf of individual and group clients in legislative and administrative proceedings, and provides co-counsel, support, training, and technical assistance on utility and energy matters to locally based legal aid programs, community groups, and non-profit agencies.
The successful candidate for this position should have a demonstrated commitment to achieving economic justice for low income households and the ability to develop, lead, and collaborate on projects which seeks to advance utility affordability and housing sustainability for lower income persons and other marginalized communities. Candidates should have significant supervisory and/or leadership experience, either as a direct supervisor, as lead attorney in complex litigation or policy initiatives, or equivalent professional experience.
Prior experience with advocacy on behalf of low income individuals or communities – specifically in the areas of utility, housing, energy, consumer, or environmental policy and/or advocacy – is strongly preferred. Experience working on policy matters for a non-profit organization or local, state, or federal agency – or in leading complex litigation on behalf of group or organizational clients – is also strongly considered.
Duties and Description:
The position will require some or all of the following:
Organize and advance PULP's energy justice work to ensure that PULP's low income clients' concerns are centered in policy decisions addressing climate change and other environmental concerns.
Supervise the litigation and policy work product of PULP's staff attorneys.
Draft formal comments which advocate for and/or defend the positions of PULP's clients in a range of utility-related proceedings.
Assist in developing testimony by experts and consultants in proceedings before administrative agencies.
Advocate for the positions of PULP's clients before administrative agencies, including the Pennsylvania Public Utility Commission, the Department of Human Services, the Department of Community and Economic Development, and the Department of Environmental Protection.
Represent and advocate for PULP's clients' positions in a range of meetings and collaborative proceedings.
Evaluate and analyze the impact of utility and governmental policy on low income households' ability to be able to afford essential utility services, and assist PULP's clients in devising solutions to remedy these issues.
Monitor and evaluate proposed legislation, PUC and other agency policy decisions and rulemakings, and individual utility policies and procedures, and the impact it may have on the ability of low-income households to connect to and maintain essential utility service.
Take part, with PULP's other staff members, in resolving utility-related consumer complaints through PULP's utility hotline, or email requests for assistance from consumers and consumer based organizations, constituent relations staff of elected offices, and legal service providers.
Location: This position would be located at PULP's office in Harrisburg, Pennsylvania.
Required Qualifications:
Juris Doctorate (JD) from accredited law school, and current license to practice law in Pennsylvania.

Applicants with a current license in another state will be considered if able to demonstrate that a license in Pennsylvania can/will be obtained upon hiring or shortly thereafter.

At least 5 years of practice experience, preferably in the area of utility, environmental, consumer, public benefits, or other administrative law and/or policy.
A demonstrated commitment to achieving justice for low income communities.
The ability to develop, lead, and collaborate on projects which seek to advance utility affordability and housing sustainability for low-income households and communities.
Close attention to detail.
Strong interpersonal and organizational skills.
Excellent oral and written communication skills.
Computer literacy, including web-based applications, email, and word processing.
Willingness and motivation to assist on both substantive cases and administrative matters.
A valid Pennsylvania driver's license and willingness to do occasional travel to conduct outreach and training and/or to attend meetings across the state.
Preferred Qualifications would include one or more of the following:
Prior legal aid/low-income advocacy experience.
Supervisory experience.
Fluency in writing and speaking a language other than English, preferably Spanish.
Experience in legislative or administrative advocacy or experience with social services agency or nonprofit organization that advocates on behalf of low-income households.
Salary depends on experience. Range for applicant with 5-10 years' experience is $69,000-$82,000. An excellent benefits package is provided.
To apply, please send a letter of interest and resume to:
Elizabeth Marx, Executive Director
Pennsylvania Utility Law Project
118 Locust Street
Harrisburg, PA 17101
emarxpulp@palegalaid.net
Applications by e-mail are preferred. Applications will be accepted until the position is filled.
PULP/RHLS is an Equal Opportunity Employer and values a diverse and inclusive work experience. People of color, persons who are bi-cultural or bi-lingual, women, persons with disabilities, and persons who identify as LGBTQ are encouraged to apply.