Staff Attorney - Pennsylvania Utility Law Project, Harrisburg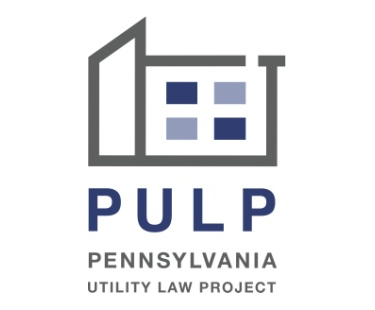 The Pennsylvania Utility Law Project (PULP) is seeking a highly motivated individual to serve as a staff attorney.
Located in Harrisburg, Pennsylvania, PULP is administered by Regional Housing Legal Services (RHLS) and is the designated state-wide utility advocacy project of the Pennsylvania Legal Aid Network. On behalf of its low-income clients, PULP regularly participates in legislative and administrative proceedings affecting low-income utility consumers, and provides co-counsel, support, training, and technical assistance in utility and energy matters to locally based legal aid programs, community groups, and non-profit agencies. PULP also collaborates with a broad-based network of community partners which seek to expand access to affordable shelter and its component parts such as affordable utility services, energy efficiency, weatherization, and advancement of energy and environmental justice.
The successful candidate should have a demonstrated commitment to providing quality legal services to low-income individuals and the ability to develop and work on projects which seek to advance utility affordability and housing sustainability for lower income persons and communities. Prior legal aid/low-income advocacy experience is preferred. Prior experience with utility and housing law and/or advocacy before administrative agencies is also preferred, but not essential.
Duties and Description:
The position will primarily handle brief service and counsel/advice cases from start to finish though PULP's utility hotline. The position will be responsible for interviewing potential clients over the telephone, reaching out and negotiating with utility company representatives, providing advice and representation to the clients, and maintaining a large volume of client files. In addition, and as time allows, the position will also include the following duties and responsibilities:
Respond to requests for assistance and information from consumers and consumer based organizations, constituent relations staff of elected offices, and legal service providers.
Develop resources and provide training for community partners, legal service providers, and other groups.
Draft pleadings, briefs, motions, legal memoranda, and/or comments which advocate for and/or defend the positions of PULP's clients in a range of utility proceedings.
Represent and advocate for PULP's clients in meetings and collaborative proceedings.
Evaluate and analyze the impact of utility and governmental policy on low-income households' ability to afford essential utility services and assist PULP's clients in devising solutions to remedy these issues.
Monitor and evaluate legislation, proposed legislation, PUC policy and rulemaking, and utility policy and the impact it would have on the ability of low-income households to connect to and maintain essential utility service.
Location:
This position is located at PULP's office in Harrisburg, Pennsylvania. As a result of the pandemic, our office is currently conducting all operations remotely. When offices reopen, we anticipate returning to in-person work at our Harrisburg office. Ongoing remote work may be an option.
Required Qualifications:
Licensed to practice law in Pennsylvania or able to become licensed to practice law in Pennsylvania within 6 months of beginning employment.
1-3 years' experience in legal services, utility law advocacy, or public policy affecting low-income households is preferred. Other candidates will be considered.
A demonstrated commitment to providing advice, representation, and assistance to low-income individuals.
The ability to develop and work on projects which seek to advance utility affordability and housing sustainability for low-income households and communities.
Strong interpersonal and organizational skills, excellent oral and written communication skills, and the ability to deal with a high volume of direct client interaction.
Computer literacy, including web-based applications, email, and word processing.
Willingness and motivation to assist on both substantive cases and administrative matters.
A valid Pennsylvania driver's license and willingness to travel to conduct outreach and training or to attend meetings.
Preferred Qualifications would include one or more of the following:
Prior legal aid/low-income advocacy experience.
Fluency in writing and speaking a language other than English, preferably Spanish.
Experience in legislative or administrative advocacy or experience with social services agency or nonprofit organization that advocates on behalf of low-income households.
Salary depends on experience, range for attorneys with 1-5 years' experience is $52,000-$65,000. An excellent benefits package is provided.
This position is a one-year, grant funded position, which may be extended if funding allows.
To apply, please email a letter of interest and resume to:
Kristen Geesaman, Direct Services Manager
Pennsylvania Utility Law Project
118 Locust Street
Harrisburg, PA 17101
kgeesamanpulp@palegalaid.net
We invite all applicants to include in their cover letter a statement about how their unique background and/or experiences might contribute to the diversity, cultural vitality, and perspective of our staff and legal services practice.
Applications accepted by email only. Applications will be accepted until the position is filled.
Preference will be given to candidates who submit an application before February 28th. Interviews will begin in early March 2021.
PULP/RHLS is an Equal Opportunity Employer and values a diverse work experience. People of color, people who are bi-cultural or bi-lingual, women, people who are differently abled, and people who identify as LGBTQ are encouraged to apply.