Staff Attoney - Laurel Legal Services, Johnstown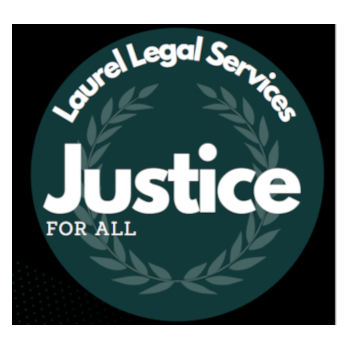 Laurel Legal Services, Inc., which provides free legal aid to indigent clients in a six county service area, including Cambria, Westmoreland, Clarion, Jefferson, Armstrong and Indiana County, is currently seeking applicants for a Staff Attorney position. This position is based out of the Johnstown, Pennsylvania office in Cambria County, but will require travel both within Cambria County as well as the other counties Laurel Legal serves.
 
GENERAL DEFINITION OF THE WORK:
This work primarily involves assisting, counseling and representing low income clients and victims of domestic violence in all aspects of a legal problem including housing, landlord and tenant issues, custody, unemployment, social security, debt collection, foreclosures, guardianships, expungements and clean slate cases, bankruptcy, utility shut offs, Protection from Abuse actions, and other related matters. Staff attorneys will be expected to interview, gather of facts, identify and clarify legal problems or issues, discuss of various options available to the client and formulate appropriate strategies to deal with this particular problem, which may include full representation before Common Pleas and Appellate Courts, magisterial district justices, hearing officers, or other administrative bodies, negotiation with other parties and counsel, and preparation of pleadings and defending clients.
Staff Attorneys are expected to be aware of and apply/implement rules, regulations, and instructions of Laurel Legal Services Inc. and its funding sources, as well as Pennsylvania substantive and procedural rules. This includes proper case management (including case closings), documentation and file maintenance. It also includes maintaining a working knowledge of program priorities, client eligibility requirements, and various funders and reporting requirements. Anyone hired for this position will received ongoing training.
 
MINIMUM QUALIFICATIONS/ TRAINING AND EXPERIENCE:
Graduation from a college or university with a B.S. or B.A;
Graduation from an American Bar Association accredited law school
A Pennsylvania Law License
At least 3 years of legal experience or a combination of equivalent experience or training.Specialized experience in a legal services program or other skills may substitute for amount oftime, as determined by the Executive Director.
This position will be based out of Cambria County, in Johnstown, Pennsylvania but mayrequire significant travel within Laurel Legal Services' 6 County service area.
 
BENEFITS:
Extensive fringe benefits including medical insurance, paid holidays, accrued vacation and sick leave, disability insurance, CLE credits, student loan assistance, and fixed work hours. Salary is dependent upon experience but starts at $50,000 per year.
**A stipend of $125.00 per paycheck ($250.00 per month) is an additional benefit for any staff attorney hired to work in the Johnstown office.
 
HOW TO APPLY:
Interested candidates must submit their application not later than October 31, 2022. Interviews will begin immediately, however this position will remain open until it is filled. To apply, please submit the following documents:
A cover letter
A current resume that includes all experience, education, training, outside activities, and other information relative to the position.
A list of references, where available.
All applications and inquiries should be sent to:
Lauren E. Catalano, Esq.
Managing Attorney
Laurel Legal Services
16 E. Otterman Street
Greensburg, PA 15601
Email: lcatalano@wpalaw.org OR hr@wpalaw.org
Email is preferred.
Laurel Legal Services Inc. is an Equal Opportunity Employer.