Domestic Violence and Immigrant Youth Staff Attorney, HIAS Pennsylvania, Philadelphia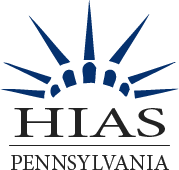 HIAS Pennsylvania is currently seeking a staff immigration attorney for its Domestic Violence/Youth Programs.
---
Job Title: Domestic Violence and Immigrant Youth Staff Attorney
Supervisor: Domestic Violence Initiative Supervising Attorney & Immigrant Youth Advocacy Project Supervising Attorney
Salary: Salary range $44,000 - $48,000
To apply, please send resume and cover letter to Rona Gershon at rgershon@hiaspa.org. No phone calls, please.
---
HIAS Pennsylvania's Mission:
Driven by the Jewish value of welcoming the stranger, HIAS (the Hebrew Immigrant Aid Society) Pennsylvania provides legal, resettlement and supportive services to immigrants and refugees from all backgrounds in order to assure their fair treatment and full integration into American society. HIAS Pennsylvania is one of the largest non-profit immigration legal service providers in Pennsylvania.  With a current staff of 39 individuals, including 11 attorneys and 4 accredited representatives, the organization assists low income immigrants with adjustment of status, removal defense, family unification, citizenship, and asylum.  HIAS Pennsylvania prioritizes providing services to vulnerable populations including survivors of interpersonal violence and unaccompanied and abused youth.
HIAS Pennsylvania's Immigrant Youth Advocacy initiative (IYA) is the only program of its kind dedicated to providing legal services to immigrant youth in Eastern Pennsylvania. HIAS PA's IYA provides legal services to immigrant children in our region, including unaccompanied children in the custody of the Office of Refugee Resettlement (ORR); unaccompanied children in removal proceedings before the Philadelphia Immigration Court; immigrant children in the care of, or receiving services from, the Philadelphia Department of Human Services (Phila. DHS) or other county child welfare organizations, and other vulnerable immigrant youth.
HIAS Pennsylvania's Domestic Violence Initiative provides legal immigration services to survivors of domestic violence and sexual assault residing in Philadelphia and its surrounding counties. HIAS Pennsylvania is the sole immigration organization in Philadelphia awarded a Legal Assistance for Victims grant by the Department of Justice ("DOJ") to represent sexual assault survivors in the city of Philadelphia. This grant allows for the coordinated representation of survivors by nonprofit legal and social service  organizations in Philadelphia. 
We seek an immigration attorney who can handle working with both of these populations. They will handle primarily Violence Against Women Act ("VAWA") self-petitions and battered spouse waivers, U visas, T visas, Special Immigrant Juvenile Status ("SIJS"), adjustment of status, asylum, removal defense, and related cases.
Summary of Responsibilities:
Screen and advise clients who are referred by other DOJ partners and Philadelphia Department of Human Services as well as those who come through our regular intake process;
Screen and refer clients to partner organizations for family law issues and those relating to public benefits, employment, and housing
Provide consultation and representation in immigration matters, including but not limited to VAWA self-petitions, U nonimmigrant status/U-visa applications, battered spouse waivers, adjustment of status, Special Immigrant Juvenile Status self-petitions, T-visas, and removal defense in Immigration Court;
Attend DOJ meetings quarterly with off-site partners, and participate in coalitions and task forces addressing DV and immigration issues;
Assist in developing and maintaining pro bono resources for youth in Southeastern PA seeking Special Immigrant Juvenile status; and
Conduct educational seminars and outreach to lawyers, social workers, advocates, and the general community on immigration issues.
Qualifications:
Admission to the Bar of any state
1-3 years of immigration law experience, preferably in matters of domestic violence and/or immigrant youth cases
Experience working with victims of domestic violence, gender-based violence, or child abuse preferred
Fluency in Spanish required
Demonstrated commitment to public interest work
Excellent written, oral and analytical skills
Excellent organizational skills; and
Demonstrated ability to take initiative and work independently
Willingness to travel to counties for legal screenings and trainings.
HIAS Pennsylvania is an equal opportunity employer and does not discriminate against any on the basis of race, color, religion, sex, national origin, age, disability, political affiliation or belief.