Attorney Fellowship Sponsorship - Philadelphia Legal Assistance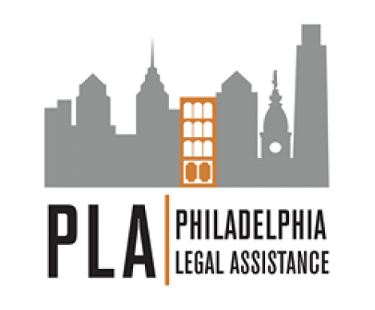 Philadelphia Legal Assistance Center, Inc. (PLA) is interested in sponsoring eligible law students for a Skadden, Independence Foundation, Equal Justice Works fellowship or the Christine A. Brunswick Public Service Fellowship.
Created in January 1996 and primarily funded by the Legal Services Corporation, PLA provides free civil legal services to low income Philadelphians and migrant agricultural workers throughout the state of Pennsylvania. The work is professionally challenging and uniquely fulfilling for those wishing to pursue a career of public interest law on behalf of low income individuals.
PLA attorneys provide high quality representation to low-income individuals in areas of basic human need: shelter, family safety and income maintenance. We encourage the use of creative strategies to resolve legal problems and innovative service delivery models to meet client needs. PLA's substantive areas of expertise and practice in Philadelphia include: consumer-housing, family, and public benefits. The Consumer-Housing Unit specializes in mortgage foreclosure defense, predatory lending, bankruptcy and consumer protection law. The Family Law Unit provides representation in custody and protection from abuse matters for survivors of interpersonal violence. Welfare issues, including food stamps and medical assistance as well as unemployment compensation and Supplemental Security Income (SSI) cases, are all handled by the Public Benefits Unit.
In addition to PLA's specialized practice areas, PLA operates several projects that target specific client populations, address specific legal needs or enhance the impact of legal representation. The following are three examples:
PLA's Pennsylvania Farmworker Project (PFP) represents seasonal and migrant farmworkers throughout the state in employment and employment related matters.
PLA enhances the holistic approach of its service delivery model by offering clients assistance with tax controversies through its Low Income Tax Clinic (LITC).
PLA's Medical Legal Community Partnership (MLCP) provides free on-site legal assistance to patients at community health centers, working jointly with health center staff to improve patients' physical, social, emotional, and legal well-being.
If selected for sponsorship, we will work with the candidate to design a project that complements our service delivery model and meets clients' critical legal needs.
Philadelphia Legal Assistance (PLA) is an equal opportunity employer. PLA values a diverse work environment and strongly encourages women, people of color, people who identify as LGBTQ, people with disabilities, people who have experienced poverty or homelessness, and people who have had prior contact with the juvenile, criminal, or child welfare systems to apply. PLA invites all applicants to include in their cover letter a statement about how your unique background and/or experiences might contribute to the diversity, cultural vitality, and perspective of our staff and legal services practice.
Salary
Dependent on Experience
Application Procedure
Application Deadline: July 5,2019, but applicants are encouraged to apply as soon as possible.
Application Materials: Applicants are asked to submit the following information, with at least the first two items in the initial application:
Cover letter describing:

Applicant's area of interest for developing a project,
Reasons why PLA is the right place for the project, and
Any ideas for sustainability of the project after the fellowship ends;

Complete resume;
Writing sample (5 page maximum);
Transcript;
List of three references.
Materials should be sent as soon as possible but no later than July 5, 2019 by e-mail to work@philalegal.org.