Accredited Representative - LOIS Project, HIAS Pennsylvania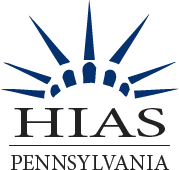 Job Title: Accredited Representative - LOIS Project
Supervisor: Managing Attorney/Director, Citizenship and Family Unification Program
To apply, please send a cover letter and resume to Yvonne Leung at yleung@hiaspa.org. Applications will be accepted on a rolling basis until the position is filled.
Overview
HIAS Pennsylvania's Mission: Driven by the Jewish value of welcoming the stranger, HIAS (the Hebrew Immigrant Aid Society) PA provides legal, resettlement and supportive services to immigrants and refugees from all backgrounds in order to assure their fair treatment and full integration in the United States.
HIAS Pennsylvania is recognized by the Executive Office of Immigration Review (EOIR) of the Department of Justice as a voluntary agency permitted to host immigration specialists known as accredited representatives who can provide immigration legal services. HIAS Pennsylvania is one of the largest non-profit immigration legal service providers in Pennsylvania. With a current staff of 42 individuals, the organization assists low-income immigrants with adjustment of status, removal defense, family unification, citizenship, and asylum. HIAS Pennsylvania prioritizes providing services to vulnerable populations including survivors of interpersonal violence and unaccompanied and abused youth.
Position Description
HIAS Pennsylvania seeks an Accredited Representative to staff our Latino Outreach and Immigration Services (LOIS) Project. The Accredited Representative will work with low-income Latino immigrants residing in Philadelphia and Montgomery Counties. The representative will counsel them on eligibility for relief under the immigration laws, prepare applications for submission to USCIS, and represent clients before the agency.
Primary Responsibilities:
Consultations and Direct Representation: The representative will provide immigration consultations and legal representation to Latino immigrants residing in the targeted counties. The focus of the legal representation will include: Naturalization, Family Petitions, Adjustment of Status, DACA, TPS and other forms of humanitarian relief. This work will take place at partner sites in both counties as well as in the HIAS Pennsylvania office.
Community Outreach and Education: Participate in presentations to the immigrant Latino communities in the targeted counties on immigration legal issues.
Networking and Training of Community Partners: Provide regular trainings on immigration matters to organizations serving the Latino community in the designated counties. Participate in existing collaborative networks serving the Latino immigrant communities in the targeted counties.
Administrative: The representative will maintain clear and detailed records to facilitate reporting to grantors.
Qualifications:
Bachelor's degree or equivalent combination of education and work experience required
LL.M graduates with a background in immigration law are encouraged to apply
Spanish language fluency required
Experience with immigration legal services preferred
Accredited representatives preferred; if not accredited, must have the experience that enables applicant to apply for accreditation shortly after hire. (Individuals who are not accredited will be required to take 40 hours of training with the goal of becoming accredited.)
Demonstrated commitment to working with a public interest organization preferred
Excellent verbal and written communications skill
Proficiency in Microsoft Office applications, database management and internet
Excellent organizational and time management skills and ability to pay close attention to detail
Ability to communicate effectively and build mutually respectful relationships with co-workers, clients, and the public
Ability to work with diverse populations
Willingness to travel throughout the targeted counties
This is an exempt position; Employment package includes comprehensive health care insurance coverage, 403(b) retirement account, and generous paid holiday leave and vacation provisions.
HIAS Pennsylvania is an equal opportunity employer and does not discriminate against anyone on the basis of race, color, religion, sex, sexual orientation, national origin, age, disability, political affiliation or belief.