Registration Underway for 2018 LSC Innovations in Technology Conference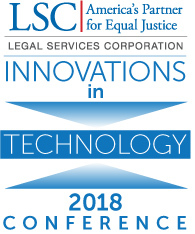 Registration is underway for the Legal Services Corporation's 2018 Innovations in Technology Conference (formerly the Technology Initiative Grants (TIG) Conference) will be held January 10-12, 2018 in New Orleans, LA.
The conference brings together leaders from across the justice community to explore innovative ways of using technology to promote better access to services and ensure high-quality legal representation for low-income people. It is expected that over 300 participants, including technologists, legal aid advocates, executive directors, court personnel, academics, and other professionals will be attending the conference.
This event also provides an opportunity to network with a national community of colleagues and to cultivate project ideas that could lead to successful applications to LSC's technology grant program.

The conference will offer more than 40 breakout sessions plus affinity groups and networking opportunities. Sessions are organized into tracks of related content, including:
Web-Based Delivery
Data Analysis
Intake and Triage
IT and Internal Operations
Self-Represented Litigants
Tech Tools for Advocates
Pro Bono Innovations
You can see more information on the conference by reviewing the 2018 ITC online schedule. Detailed session descriptions and speaker information will be posted shortly.

Pre-Conference Events: Some optional pre-conference activities include a Legal Aid Hackathon on Tuesday, January 9 and either a beginner or advanced training on LawHelp Interactive on January 8 and 9.

Conference Fee: Early registration is $420 through November 30, 2017. Regular registration is $470. Group registrations are $395 for organizations sending 3 or more regular participants. Conference registration includes breakfast and lunches each day, plus an evening reception.
Location: This year's conference will take place at the JW Marriott New Orleans 614 Canal St., New Orleans, LA. The room rate is $148 per night plus applicable taxes and fees.

Register for this Event