The Honorable Kim Berkeley Clark Presented 2017 William H. Rehnquist Award for Judicial Excellence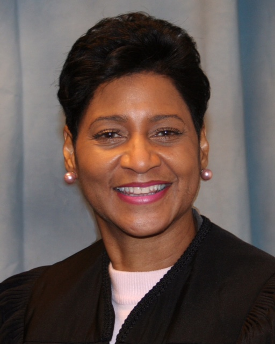 Allegheny County Judge Kim Berkeley Clark has been presented with the 2017 William H. Rehnquist Award for Judicial Excellence, the highest honor bestowed to a state court judge by the National Center for State Courts (NCSC). The award was presented on November 16, 2017 during a dinner and ceremony at the U.S. Supreme Court hosted by Chief Justice of the United States John G. Roberts Jr.
Judge Clark has earned a national reputation for transforming the way children and families who enter the court system are treated, by creating a "trauma-informed" courthouse. Judge Clark works in Pittsburgh, but her programs have been replicated in courts across Pennsylvania and across the country.

Judge Clark was appointed to the Court of Common Pleas of Allegheny County by Governor Tom Ridge in March 1999. She was elected to a full 10-year term in November 1999. Prior to becoming the administrative judge of the Family Division, she served as the Supervising Judge of Juvenile Court.

"The National Center is honored to present the Rehnquist Award to a state court judge who demonstrates the power of leading by example. Judge Clark is a leader who is committed to helping families," NCSC President Mary C. McQueen said. "Her work has dramatically improved the lives not only of those who have entered her courtroom but of thousands of other families."

In her capacity as a juvenile and family court judge, Judge Clark also serves as a member of the Pennsylvania Supreme Court Juvenile Procedural Rules and Domestic Relations Procedural Rules Committees; the Pennsylvania Interbranch Commission on Racial, Gender, and Ethnic Fairness; the Pennsylvania Commission on Crime and Delinquency Juvenile Justice and Delinquency Prevention Committee; the Pennsylvania State Children's Roundtable (chair of the Dependency Benchbook Committee); and on the Board of Directors of Pennsylvania Legal Aid Network, Inc.